Community website by MBC/Ernest Abrams. Call 808-739-9797 for advertising/sponsorship.
Waikiki, Hawaii Featured Pages


Each category below has related directory listings and
GREAT
special offers for the Waikiki, Hawaii community.
Note
... Call Ernest at 739-9797 if you like to be features one of our Waikiki pages.
<!#994MultiTitleStart>
WAIKIKI MASTER GROUP PAGES
<!#994MultiTitleEnd> <!#994MultiTableStart>
Back to the top
<!#997MultiTitleStart>
<!#997MultiTitleEnd> <!#997MultiTableStart>
<!#997MultiTableEnd>
Back to the top
Back to the top
WAIKIKI LEARNING & EDUCATIONAL
Culture/History of Waikiki


If you'd like to learn more about the history of Waikiki and Hawaii, what better way to check out our listing and head out to some of the cultural and historical hot spots in Waikiki.

From the complimentary cultural programs offered by Waikiki hotels to checking out the quaint historical museums in this neighborhood, Waikiki openly shares its history to anyone who's interested. More...

Historic Sites


Take a stroll along Waikiki and you'll find many historic spots that help define this neighborhood's character. From the War Memorial Natatorium, Kapiolani Park to the US Army Museum, Waikiki has a lot of history to share with it's historic sites. Check out our list of Waikiki's Historic Sites to help you get started. More...
Landmarks


While you're out shopping and dining in Waikiki, don't forget to look around at Waikiki's famous landmarks. From the Ala Wai Boulevard, Diamond Head, to the Honolulu Zoo and Kapiolani Park, there's so much richness and beauty to appreciate in Waikiki. Here's a list of what landmarks you should check out. More...

Waikiki Historic Trail


Take a stroll along Waikiki's Historic trail and Walk in the footsteps of Hawaii's royalty and most famous residents. From Kapiolani/Waikiki Beach to Kalakaua Park and everything in between, you'll learn so much about the history of Waikiki. Check out our guide to Waikiki's Historic Trail and take that first step! More...

Ethnic & Cultural


See Waikiki in a different light by checking out some of its ethnic and cultural places. Browse through our list below to help you get started. Waikiki highlights a lot of Hawaii's rich history and culture so be sure to take some of that in while staying in Waikiki! More...

Hawaiiana


Many Waikiki hotels and shops offer a variety of classes such as lei making, Hawaiian language lessons, hula lessons, ukulele classes and other interesting pieces of Hawaiian culture. Check out our listing below and pick which class you'd like to sign up for! More...

Lectures & Workshops


Many of Waikiki's hotels and museums offer workshops and lectures that help you learn more about the rich culture of this neighborhood and of these islands. Check out our list below to see what workshops are offered and sign up today! More...
Back to the top
OTHER WAIKIKI BUSINESSES AND RESOURCES

Banks


Need a check cashed or some currency exchanged? Be sure to check our directory of Waikiki banks and head over to one that's closest to you. From ATM withdrawals, check cards for visitors to assisting local businesses and residents with their banking needs, these Waikiki banks can help. More...

Children & Families


Waikiki has everything for everyone. Spend family time with the kids at the Honolulu Zoo and Waikiki Aquarium or check out Teddy Bear World along Kalakaua Avenue. For more family fun options, check out our list below. More...

Currency Exchange


If you're visiting from overseas and are needing some US currency to start your Waikiki vacation, then head over to these convenient currency exchange stores listed in our directory. Residents also look to these stores to conveniently exchange US dollars before they travel. Check out our list below. More...

Medical Services & Facilities


Whether it's an emergency or routine checkup, you can rely on these medical facilities within and around Waikiki to assist you with your health and medical needs. From the Waikiki Health Center to the in-house medical services offered in various hotels, Waikiki's medical facilities has your health covered. Check out our directory below. More...

Postal Services


If you'd like to send some postcards or ship out a couple of early souvenirs to your loved ones while on vacation, Waikiki's US Post Office and USPS Express Stores are within reach. Residents and visitors also enjoy the convenience offered by various UPS stores in Waikiki for their shipping, mailbox services and small business solutions. Here's our directory of Waikiki's postal services. More...

Visitor Information & Guides


Whether you need a map, some help finding your way around Waikiki or a recommendation on what tour to check out, Waikiki's visitor information and guides will help you on your way. From shopping, tours and even historical trivia, don't be afraid to check out these Waikiki visitor information services. More...

Wedding Service


Nothing is more romantic than a Waikiki wedding! If you're planning to have your dream wedding in Hawaii, check out these various wedding service companies that offer a wide array of wedding planning services to make your wedding a memorable one! More...

Tattoos Studios


If you want to get inked by some of the top tattoo Waikiki artists here, look no further. Waikiki has a lot of great tattoo shops for you to choose from. More...

Modeling And Photography


Professional photographers for your special events and modeling and talent agencies around Waikiki that offer great representation and give you access to respectable clients. More...

Business & Financial Services


Not only is Waikiki home to a list of impressive shopping centers and stores, it also houses many local businesses and services that assist residents and tourists alike. From financial services to corporate offices, many folks consider Waikiki their place of work. Check out our business directory below. More...

Educational Programs & Institutions


Spend a day at these educational places and institutions in Waikiki and you'll be surprised to learn that this neighborhood offers more than just shopping and dining. From Ocean Sciences to school programs offered by the Waikiki Aquarium to the Waikiki Community Center's various community programs, there's so much to learn and discover in Waikiki. So come on down and start exploring Waikiki like you've never done before. More...

Visitor Services


Waikiki's Aloha spirit can truly be seen from the various visitor services found in this neighborhood. Whether you're looking for recommendations on surfing instructors to just trying to find your way around Waikiki, these visitor service options are just what you need to help you make the best decisions during your vacation. More...

Alcohol, Beer, Energy Drinks And Spirits


Finding the right kind of drink that fits you in Waikiki is just as important as finding that perfect location. More...
Back to the top

Car Motorcycle Rental Automotive


Pimping your ride has never been this easy with our Auto Accessories and Auto Detailing shop listings. So check them out and find the right one that can help you take your style to the next level. Auto accessories, auto detailing, car dealerships and more More...
Buses, Shuttles & Trolleys


Here in Waikiki, there are tons of transportation services that can take you to where you want to go. For the locals and adventurous tourists, TheBus is a convenient and regular source of transportation in and out of Waikiki. If you plan ahead, you can book shuttles and trolleys that will not just give you a scenic tour of Waikiki but also take you to where you want to go. Below are some of the transportation options you can take. More...

Cars, Motorcycles & Mopeds


If you feel like seeing Waikiki on wheels, simply rent a car or even a motorcycle or moped from any of the top car and motorcycle rental companies in Waikiki. They offer reasonable rates for tourists and some even offer good kamaaina deals for locals as well! Check out out listing below. More...

Limousines & Taxis


If traveling in style is a priority (or you want to let someone else worry about parking), check out the limousine services available in Waikiki.

If driving becomes a bit of a concern after a night of great partying at Waikiki's hottest pubs and nightclubs, no worries! Just pick up the phone and dial any one of the available and reliable taxi companies that can give you a ride back to your home or even to your next Waikiki party destination! More...

Tours & Transportation Services


For out of town guests and Waikiki residents alike, there are numerous travel agencies that can take you to the must-see places here in the island. Looking for an activity that will get the adrenaline pumping? No problem, our Waikiki travel and tour operators has the hottest list of activities you can check out! If you prefer something more tame and historical? They know where to take you! Browse through our listing of Tour and Transportation Services based in Waikiki. More...
ref no:12692
Featured Product/Service
<!PDF LINK>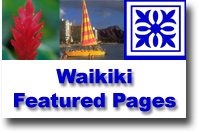 If you would like to be featured on one of our featured pages call Ernest at 808-739-9797.
<!998Template_start>
<!998Template_end>
---
Please send questions about this website to