Community website by MBC/Ernest Abrams. Call 808-739-9797 for advertising/sponsorship.
Waikiki Get Down - Honolulu, Hawaii
News Item

Waikiki Neighborhood Board Meeting JANUARY 2022 Minutes
With Permission / Courtesy of
: City and County of Honolulu Neighborhood Commission Office
<!#450IMAGESTART>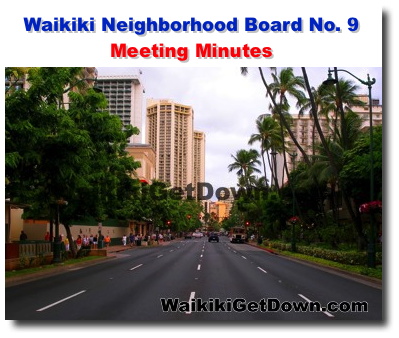 <!#450IMAGEEND>
WAIK K NEIGHBORHOOD BOARD NO. 9
January 2023 Minutes
WAIKIKI NEIGHBORHOOD BOARD NO. 9

REGULAR MEETING MINUTES - DRAFT

TUESDAY, JANUARY 10, 2023

WAIKIKI COMMUNITY CENTER IN PERSON
(00:00:00) CALL TO ORDER: Chair Robert Finley called the meeting to order at 6:00 p.m. A quorum was established with 10 members present. Note: This 17-member Board requires nine (9) members to establish quorum and to take official board action.
Board Members Present: Robert Finley, Louis Erteschik, Tommy Penrose, John Nigro, Jeffery Merz, Daniel Jacob, Ken Jacob, Mark Garrity, Jacob Wiencek, Mark Smith, Katheren Henski (6:03p.m.), Michael Brown (6:17p.m.), and Gregory Misakan (appointed).
Board Members Absent: Melissa Filek, Lisa Cabanero, and Robert Boyack.
Guests: Major Randall Platt and Lieutenant Lieu (Honolulu Police Department); Nola Miyasaki (Mayor's Representative); Venus Delos Santos (Senator Sharon Moriwaki); Representative Adrian Tam, Council Chair Tommy Waters and April Coloretti; Dominic Dias (Board of Water Supply BWS); Daniel Alexander (Department of Transportation DOT); Rick Egged (Waik k Improvement Association); Rob Robertson and Romeo Aquinaldo (Wayfinder Hotel); Dylan Whitsell and Casey Ishitani (Neighborhood Commissions Office NCO); Renee Espiau, George Wilk, Saw Wilk, Don Jones, Rudolfo Nimis, Pat Moore, Jillian Anderson, Greg Misakian, Denise Boisert, Pam Walker, Michelle Manna, Wes Stockstill, Kay Haring, Patrick McCain, Tim Garry, Curtis Miller, Venus Delos Santos, Shannon Smith, Margaret Murchie, Dianne Willoughby, Dennis Farakawa, Katherine Li, Pomai Souza, Wes Frysztaki, Steven Fuertes, Linda Wong Arleen Velasco, Mike Rhondes, Chad Snatner, and Judi-Ann Smith-Kauhane - Neighborhood Assistant. In-Person Participants: 43.
(00:01:00) Fill vacancy in sub district 2 - Candidate Greg Misakan applied for the sub district 2 position.

• Verified address by NA Smith-Kauhane prior to the start of the board meeting.

• Greg gave an overview background of his experience and reasons why he wanted to volunteer for the neighborhood board.
Member Henski Arrived to the meeting at 6:03p.m. Total of 11 members Present.
Finley Nominated and Henski Seconded Greg Misakan for the Sub District 2 Position Passed Unanimously by a Roll Call Vote 11-0-0. Aye - 11; Finley, Erteschik, Penrose, Henski, Nigro, Merz, D. Jacob, K. Jacob, Garrity, Wiencek, and Smith; Nay - 0; Abstain - 0.
At 6:06p.m. Member Misakan was given the Oath of Office by NA Smith-Kauhane. Total 12 members Present.
CITY MONTHLY REPORTS

(00:07:08) Honolulu Fire Department (HFD): HFD sent the December 2022 report via email. No representative available:

• December 2022: One (1) structure, two (2) nuisance, 20 activated alarms, 187 medical calls, and one (1) motor vehicle crash/collusions.

• Safety Tip for January 2023: Electrical Safety Tips. For more information visit www.fire.honolulu.gov.
(00:07:09) Honolulu Police Department (HPD): Major Platt and Leiutenant Lieu from District 6 gave the following report:

• December/November 2022: Robbery; 7/9; burglary; 12/17; theft: 165/236; UEMV; 31/33; assault 43/39; sex crimes 5/5; and bike/skateboard on sidewalk; 22/20.

o Citations: Speeding; 8/3; parking; 1,922/2,260; loud muffler; 1/1; and park closers; 105/167.

o Arrests: Park Closures; 6/20

o Total calls of service; 4,020/5,329.

• Safety Tips for January 2023: For more information visit http://www.honolulupd.org.
Questions, comments and concerns followed:

1. Shooting: Member Smith asked for an updated statuse on the shooting on Kal kaua Avenue and Lewers Street. Thanked HPD for their service.

2. Statistics: Member Henski requested a copy of the monthly statistic reports. Henski also asked if the shooting was a fatality. Major Platt responded due to the case being active, the information available is the suspects and the victim knew each other.

3. Popularity of Location: Member Henski asked why is this location (Lewers Street and Kal kaua Avenue) so popular for crime incidences mostly at night and early morning. Major Platt responded gave the order to adjust more foot patrol officers during 3rd watch (between 2:00p.m. and 10:00p.m.).

4. Foot Patrol Officers: Member Weineck commented concerns of the need of not only foot patrol officers in certain areas but all over Waik k in general.
Member Brown Arrived to the meeting at 6:17p.m. Total of 13 members Present.
5. Safe and Sound Program: Chair Finley commented HPD is part of the Safe and Sound Program. In the last 3 months of 2022, HPD has arrested more than double offenders which came before the prosecutors office. HPD needs the support by the community to keep the community safe. Procedures are in place.

6. Community Support: Member Merz commented in order to keep Waik k safe, it is all our responsibilty; vendor/owners of businesses and the community to keep our eyes and ears open and communicate with emergency services.

7. 3rd Watch: Member K. Jacob asked for clarification what are the times of 3rd watch and when will HPD be patroling the streets. Major Platt responded between the hours of 2:00p.m. and 10:00p.m.

8. More Questions: Chair Finley asked HPD to follow up with residence questions outside so the meeting can proceed. HPD stayed another 45 mins to answer more questions from the community.
(00:24:50) Board of Water Supply (BWS): Dominic Dias reported no main breaks for the month of December 2022 and no current construction projects in Waik k for 2023.

Announcements: BWS will be participating in the Building Business Association Show at the Blaisdell Arena Friday to Sunday, January 20-22, 2023. For more information go to www.bws.org. BWS is also hiring go to www.bws.org.
Questions, comments, and concerns followed: K hio Avenue Pipe Project: Member Nigro asked for an updated status on the K hio Avenue pipe project. Dias replied, BWS is revising their 6-year plan to accomidate the various construction and re-paving projects happening on K hio Avenue.
UNFINISHED BOARD BUSINESS

(00:29:14) Dedicated Bus Lane on K hio Avenue: Renee Espiau presented the proposed dedicated bus lane on Kuhio Avenue Initiative for the City and County of Honolulu. This project will be using paint and signs to adjust the striping of the lanes to accommodate an exclusive bike/bus lane on K hio Avenue. This project is finding a way to promote public transit due to automobile congestion over the years. This will cover the full length of K hio Avenue. The right hand lane will be used exclusively for busses, bikes and the possibility of freight trucks (overnight hours). The streets that will be affected is between Ohua to Daimond Head Avenue. For more information go to www.completestreets@honolulu.gov.
Questions, comments, and concerns followed:

1. Support: Wiencek commented in support of the K hio Avenue lane change which will promote more bicycle riders in Waik k .

2. Presentation: Member Merz commended the well thought out plan for K hio Ave. Merz commented this project is very successful in New York City. Since this adjustment will be done very inexpensively, the ability to change the lane if it is not working can be done rather easily. Good way to think outside of the box.

3. Businesses on K hio Avenue: Member Merz asked if there was any feedback from businesses on K hio Ave.? Espiau responded working with various of associations in Waik k and there has been inquiries for presentations by businesses to see the project in detail. The biggest concerns are left turns, loarding and unloading by freight trucks.

4. Enforcement: Member Henski asked who will enforce the changes on K hio Avenue. Espiau responded HPD will be enforcing the changes.

5. Congestion: Member Erteschik commented concerns of traffic congestion. Espiau responded with the road change there will be less congestion due to having more busses and bikes on the road and less cars.

6. Board Support: Multiple board members made comments of support for the K hio Avenue Project based upon the responses given by Espiau. This is a first step in the right direction to help with traffic in Waik k .
NEW BUSINESS:

(00:55:41) Rename Waik k Sand Villa to Wayfinder Hotel: Rob Robinson of Spring Board Hospitalities introduced Romeo Aguinaldo as the General Manager of the Wayfinder Hotel. Formally known as the Waik k Sand Villa, this newly rennovated hotel is one of a few hotels owned by the New York company Spring Board Hospitalities. For more information go to www.wayfinderhotels.com
(01:04:30) Complete Streets: Daniel Alexander from the Department of Transportation (DTS) presented the plan for the Ala Wai Blvd. project: This project will affect the Ala Wai Boulevard. between Kapahulu Avenue and Kal kaua Avenue. The re-developed draft plans are based upon the data and safety for the people in Waik k . Communication between the Waik k community and DTS were done most recently in October 2022 by town hall meetings. Active feedback was taken into consideration with the updated proposed plans for the Ala Wai Boulevard.

• Highest walking rates in O ahu

• Need safer streets for bicycling and walking residents

• Needs to support Emergency vehicles

• Needs to support private and publc transit

• Maintain scenic views

Project will include installation of :

• Curb extensions for walking residents

• Speed reduction of Ala Wai Boulevard

• Better lighting on streets for Emergency vehicles and other vehicles

• Creating more exiting space leaving Waik k to other parts of O ahu

• Replacing the parking extensions with two-way bicycle lane alternating hours throughout the day

For more information go to www.completestreets@honolulu.gov.
Questions, comments and concerns followed:

1. Sizes of Lanes: Chair Finley commented concerns about the reduction of the width of the lanes posing a concern for city busses and will this project be voted by City Council before implemented? Alexander responded looking for best practices to implement program. Also the bus lane will maintain an 11ft width for busses and emergency vehicles.

2. Landscaping: Chair Finley asked if the curb extensions will affect the existing landscaping areas. Alexander responded the curb extensions will not affect the landscaping areas due to many of them will be opposite or alternate blocks on Ala Wai Boulevard.

3. Ala Wai Bridge: Chair Finley asked will this project work with the Ala Wai Bridge that is being built for Waik k . Alexander responded the bike lane implemented on the Ala Wai should transition to the Ala Wai Bridge bike lane.

4. Flexibility: Member Garrity thanked DTS for the flexibility and the updated revisions done based upon the feedback from the Waik k community.
In order to continue with the meeting, Chair Finley asked Daniel Alexander to answer questions in the back of the Waik k Community Center.
PUBLIC EVENTS

(01:44:42) Public events were announced by Chair Finley: See January 2023 agenda
APPLICATIONS FOR LIQUIOR LICENCES

(01:45:48) Applications for liquior licences were announced by Chiar Finley: See January 2023 agenda
ELECTED OFFICIALS AND OTHERS

(01:46:05) Mayor Rick Blangiardi's Representative: Nola Miyasaki gave the following report:

Highlights:

• Waikiki Vista: In October 2022, the City and County of Honolulu finalized the purchase of the Waik k Vista building in M ili ili.

• Non-Profit Grants: The City and County of Honolulu is now accepting applications for up to $30 million in relief for non-profit organizations that have been adversely impacted by the COVID-19 pandemic. Eligible non-profits could receive up to $100,000 to help them recover.

• Continuing Commitment to Chinatown: On November 21, 2022, Mayor Blangiardi, City leaders, and partners from the Chinatown community held a blessing and lei draping ceremony to mark the completion of renovations to Dr. Sun Yat-Sen Memorial Park

• Personnel Updates: Dawn Takeuchi Apuna was named Director Designate, Jiro Sumada was appointed Deputy Director and Craig Hirai joined the City as new Chief of Affordable Housing Policy and Strategy of the Department of Planning and Permitting (DPP); Haku Milles, was named Director Designate of the City's Department of Design and Construction (DDC)

• Newsletter Link: https://www.oneoahu.org/newsletter

• For the second year in a row, Forbes has distinguished The City and County of Honolulu among America's Best Employers by State, ranking #2 employer in Hawai'i and #1 in the state for government services. To explore career opportunities at the City and County of Honolulu, please visit https://www.governmentjobs.com/careers/honolulu.

• The Neighborhood Commission Office (NCO) 2023-2025 Board Election applications are now available online at https://web1.hnl.info/nbe for candidates and voters.

• Important Dates:

o Friday, February 17, 2023 - Candidate Filing Deadline

o Friday, April 28, 2023 - Voting Begins

o Friday, May 19, 2023 - Voting Ends

• Who Can Vote?

o Anyone can vote including military personnel, military family members, and legal resident aliens

o Must be at least 18 years of age by Friday, February 17, 2023

o Voted in the last general election or register with the NCO to vote specifically for the Neighborhood Board Elections

Follow Up:

• Bill 43: What enforcements for amplified noise can residents expect? The Honolulu Police Department (HPD) responded: Bill 43 was vetoed by Mayor Rick Blangiardi and did not become law. The Honolulu Police Department will continue to enforce noise violations using the current Revised Ordinances of Honolulu and Hawaii Revised Statutes.
Questions, comments, and concerns followed: Bill 43: Member Erteschik commented there were no details of why the Mayor vetoed Bill 43. Miyasaki responded according to HPD it is not possible to measure the descible levels to take any action. Member D. Jacob responded Statute 711-1101 under disorderly conduct explains the verbiage whcih can enforce HPD to cite various of noise disturbances happening in the Waik k Area.
(01:58:24) Council Chair Tommy Waters: Chair Waters gave a quick overview of his monthly report. www.tommy.waters@honolulu.gov.

• Senior Advisor: Chair Waters introduced his Senior Advisor April Coloretti.

• Crime: Chair Waters commented concerns regarding crimes in the Waik k Area.

• Bill 43: Chair Waters commented his concerns regarding Bill 43 and communicated with HPD regarding enforcement of Ordinance 41-641 Prohibited Noise is not being enforced.

• Listening to the Community: Chair Waters urged DTS regarding complete the streets projects to listen to the Waik k community.

• Jobs: Please apply for the City and County of Honolulu.
Questions, comments and concerns followed:

1. Date Street: Member Smith suggested another option to avoid traffic going through Waik k is to go on Date Street from Kapahulu Avenue

2. Amplified Sound: Various members of the Board commented concerns regarding high levels of noise all through the Waik k area.

3. Street Vendors: Resident commented people putting tables out to sell wares illegally. Chair Waters responded this is illegal. There needs to be enforcement by HPD.
(02:23:11) Senator Sharon Moriwaki: Representative Venus Delos Santos gave a quick overview of her monthly report. www.senstormoriwaki@capitol.hawaii.gov.
(02:28:28) Representative Adrian Tam: Representative Tam gave a quick overview of his monthly report. www.reptam@capitol.hawaii.gov
(02:36:03) Governor Josh Green: No representative. No report was given.
(02:36:14) Waikiki Business Improvement District Association (WBIDA): For more information go to www.waikikibid.org.
Due to the time constraints of the meeting, the approval of the minutes were postponed to the next meeting.
ADJOURNMENT - The meeting adjourned at 8:48 p.m.
Submitted by: Judi-Ann Smith-Kauhane, Neighborhood Assistant

Reviewed by: Naomi Hanohano - Community Relations Specialist

Final Review:
Featured Product/Service
<!998Template_start>
<!998Template_end>
---
Please send questions about this website to