Community website by MBC/Ernest Abrams. Call 808-739-9797 for advertising/sponsorship.
Waikiki Get Down - Honolulu, Hawaii
News Item

Waikiki Neighborhood Board Meeting OCTOBER 2022 Minutes
With Permission / Courtesy of
: City and County of Honolulu Neighborhood Commission Office
<!#450IMAGESTART>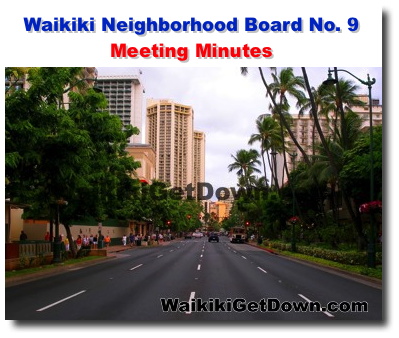 <!#450IMAGEEND>
WAIK K NEIGHBORHOOD BOARD NO. 9
October 2022 Minutes
WAIKIKI NEIGHBORHOOD BOARD NO. 9

REGULAR MEETING MINUTES - DRAFT

TUESDAY, OCTOBER 11, 2022

VIA WEBEX AND WAIKIKI COMMUNITY CENTER
CALL TO ORDER: Chair Robert Finley called the meeting to order at 6:00 p.m. There were difficulties with the meeting link via WebEx, which delayed members to join the meeting. A quorum was not established with eight (8) members present. Note: This 17-member Board requires nine (9) members to establish quorum and to take official board action.
Board Members Present: Robert Boyak, Lisa Cabanero, Mark Garrity, Michael Brown, Robert Finley, Kathryn Henski, John Nigro, Mark Smith, Jeffery Merz (6:05p.m.), Melissa Filek (6:08p.m.), and Daniel Jacob (Appointed).
Board Members Absent: Tommy Penrose, Robert Donaldson, Louis Erteschik, Jacob Wiencek, and Bowe Souza
Guests: Captain Bellis (Honolulu Fire Department (HFD); Nola Miyasaki (Mayor's Rep); Senator Sharon Moriwaki, Representative Adrian Tam, Council Chair Tommy Waters, Cory Chun (Tommy Waters Rep); Dominic Dias (BWS); Matt Dvonch (Prosecutor's Office); Isaiah Sato ( Hale Lau'ula Project); C. Watanabe, Mr. Toba, Renee Espiau, Bruce Lekeit, Lloyd White, Katherine Li, Doris Melemai, Edward Graham, Chris Barahart, Daniel Jacob, Ken Jacob, Valerie Wong, Brian H., Sally, Kaleo Nakoa, Joan Davis, R.M. Towill, John Deutzman, Karen O'Neil, Perry Sweeny, Lori Anderson, Pat Moore, Denise Boisvert, Netty Max, Curtis Miller, Lorriane Wells, Jillian Anderson, Jennifer Ingellis-Dupre, Carlino Giampolo, Nilie Hartman, Kristie Tokifuji, Blake Boyd, Any Parsons, Olelo, and Judi-Ann Smith-Kauhane - Neighborhood Assistant. Total Online and In-Person Participants: 66
Notice: Chair Finley made an announcement of Helen Carol's passing. She was a board member for 15 years.
Sub District 2 Vacancy: Chair Finley postponed the filling of sub district 2 due to lack of quorum. Will circle back when quorum is established.
CITY MONTHLY REPORTS

Honolulu Fire Department (HFD): Captain Bellis gave the September 2022 report:

One (1) structure fire, one (1) cooking fire, 12 activated alarms, 171 medical calls, two (2) motor vehicle collision with pedestrian, three (3) motor vehicle crash/collusions and two (2) ocean rescues.

Safety Tip for September 2022: Holiday Decoration Safety is important for everyone, including our children. For more information visit www.fire.honolulu.gov.
Questions, comments, and concerns followed: Fire: Member Henski commented on how fast and efficient HPD put out a garbage fire at the Kapahulu station.
Member Merz Arrived to the Meeting at 6:05p.m. Nine (9) Members were Present. Quorum was Established.
Honolulu Police Department (HPD): Lieutenant Toma gave the September 2022 report:

Statistics for August/September 2022: 4/2 robberies, 15/23 burglaries, 206/204 theft 26/14 UMEV, 52/44 assaults, 6/8 sex crimes, 11/2 sidewalk violations, speeding violations and citations for parking 2249 and park closure violations 156 and 12 arrests, total calls are 5,570. More information found at https://www.honolulupd.org/.
Member Filek Arrived to the Meeting at 6:08p.m. 10 Members were Present.
Questions, comments and concerns followed:

1. Motorcycle Mufflers: Member Smith asked if motorcycle mufflers are required and Lieutenant Toma responded in order to register a motorcycle it is required to have a buffer for noise. Citations are given out when there is a violation.

2. Report: Resident Deutzman gave an updated report in his area.

3. Noise: Resident Jacob commented on why are the police not enforcing noise ordinance violations.

4. Tickets: Resident Jacob asked are there separate officers that issue tickets for violations. Toma responded any officer could issue tickets for violations.

5. HPD in Waikiki: Resident asked and Toma responded regarding shortage of HPD officers in Waikiki.

6. Sunday Nights: Member Henski commented every Sunday night between 5:00p.m. - 6:00p.m. Motorcycles are roaring down Kapahulu Ave disturbing the neighborhood.

7. Disturbance: Resident White commented on vagrant disturbances in front of various retail stores on 2424 Kalakaua Ave.

8. Homeless Camp: Resident White commented on homeless camp by HPD substation on Kalakaua made headlines on internet site Trip Advisor.
Board of Water Supply (BWS): Dominic Dias reported two (2) main breaks for the month of September 2022.

• Main break on 432 Ina Road on Saturday, September 3, 2022.

• Main break on 1800 Ala Moana Blvd on Sunday, September 4, 2022.

• City and State with BWS is observing "A Day without Water" Wednesday October 19, 2022 and Thursday October 20, 2022.

Water Tips: Water Shed Protection. For more information go to www.bws.com.
Questions, comments, and concerns follows:

1. Undergrown Leak: Member Filek commented about reporting an underground water leak on Kalakaua and Kapahulu. Dias responded would follow up at the next board meeting.

2. Kuhio: Member Nigro asked for an updated report on the Kuhio BWS project projected for 2024. Dias responded would follow with the board on any updated information as it comes available.
With quorum established, Chair Finley circled back to filling of an open vacancy for sub district 2. Chair Finley recessed for 2 minutes to verify candidate's information with NA Smith-Kauhane. Candidate Daniel Jacob gave an overview of himself and why he wanted to join the Waikiki Neighborhood board.
Boyak Motioned and Cabanero Seconded to Appoint Daniel Jacob as a Board Member for Sub District 2 was Passed by Roll Call Vote: 10-0-0. Aye (10); Boyak, Cabanero, Merz, Garrity, Finley, Brown, Henski, Filek, Nigro, and Smith. Nay (0); Abstain (0).
Member Jacob was Given the Oath of Office by NA Smith-Kauhane.
PRESENTATION:

Hale Lauula Project Update: Isiah Sato with the RM Towill Corporation gave an updated presentation of the Hale Lauula project. This project was presented a few years ago, since then was presented 3 months ago in the July 2022 meeting. This project made some updated changes and responded to previous comments from July 2022. This project is a six (6)-story boutique hotel located on 2154 Lauula Street with a Lot area of 5,355 square feet. Inside will have 16 hotel rooms at a height of 76 feet. There was a question regarding this project if it was confirmed as a hotel or hostel. Own confirmed it will be moving forward as a hotel project.
Questions, comments and concerns followed:

1. Parking: Member Henski commented and Sato responded about the four (4) parking stalls and one (1) handicapped stall being substantial for project. Bing a boutique hotel in Waikiki, there are many amenities within walking distance from the hotel.

2. Safe: Member Brown commented concerns and suggested clean and secured parking accommodations for project due to the high crime rate in that area.

3. Residential Housing: Resident commented with all hotels rooms in Waikiki could this project consider affordable housing instead of hotel.

4. Alternative Parking: Member Merz commented instead of parking for cars, could this project be suited for alternative parking such as bikes. Sato responded the project zoned in a transit oriented development area. This location is not required to have parking.

5. Great Idea: Member Garrity commented great project ideal of Waikiki area.
RESIDENTS' / COMMUNITY CONCERNS:

• Bill 23: Resident Giampolo submitted and gave verbal testimony regarding Bill 23 regarding Waikiki trash pickup after 6:00a.m.

• Primary Urban Core Development Plan (PUC): A resident commented about concerns regarding the PUC plan for Diamond Head neighborhood board. Member Merz responded the Diamond Head board's comments and concerns might differ from the Waikiki board regarding the PUC plan.

• Sirens: Resident commented concerns of HFD sounded their lights and sirens at 2:05a.m.

• Evaluations: Resident Nakoa commented Council Chair Waters and Nakoa agree there needs to be an overhaul in the Department of Planning and Permitting (DPP) with not only pay raises but with evaluations as well. The department needs to get more support and well as other departments in the City and County of Honolulu.



PUBLIC EVENTS: Chair Finley reported the events listed on the October 2022 agenda.



APPLICATION FOR LIQUOR LICENSE: Chair Finley reported an update on liquor license applications listed on the October 2022 agenda.
ELECTED OFFICIALS AND OTHERS

Mayor Rick Blangiardi's Representative: Nola Miyasaki gave the following report:

Highlights:

• CORE (Crisis Outreach Response Engagement) program was established to provide support to our homeless neighbors on OÔahu. To date, Community Health Workers (CHWs) and EMTs have responded to 310 individuals in non-emergent situations and the team has been able to redirect the need to contact emergency services for approximately 150 individuals.

• Honolulu Zoo received Association of Zoos and Aquariums (AZA) Commission reaccreditation

• The City's One Water Initiative was awarded the US Water Prize 2022 for Outstanding Public Sector Organization by the US Water Alliance

• Mayor's Highlights may be found at https://www.oneoahu.org/newsletter

• DTS COMPLETE STREETS: The City and County of Honolulu is holding a community meeting on October 26, 2022 at 6:00pm, to present and receive public input on proposed improvements on Ala Wai Boulevard. The meeting will be held virtually. Information on the project and how to attend the meeting is available at www.honolulu.gov/completestreets/waikiki.

Follow-up responses from last month's meeting:

1. Pavilion 4: The board requested an updated status on Pavilion 4. The Department of Parks and Recreation (DPR) is currently working with Biki Bike and WBIDA (Aloha Ambassador) to determine a move in date for Pavilion 4. They are scheduled to move in to Pavilion 4 in October/November.

2. Emergency Services: Member Penrose asked how emergency vehicles accesses locations if they are on a parade route. The Department of Transportation Services (DTS) responded for all events (Parade, Block Party, and Sporting), permit requires emergency vehicles to have access on the event route. With the assistance of HPD officers assigned to the parade, there were occasions where emergency vehicles travelled through the parade to access areas along the parade route.

3. St. Augustine's Church: Member Weineck requested an updated status on cleaning the front of St. Augustine's Church. The Department of Housing is currently working with the Waikiki Business Improvement District Association (WBIDA) manages the cleaning of the sidewalks near St. Augustine Church along Kalakaua Ave. HOU recommends calling 808-216-5947 between the hours of 6 AM and 10:30 PM daily should you need more information and have a clean-up concern. For any safety concerns, please contact HPD. Thank you.

4. HPD Applicants: Member Brown asked what is the hiring process and timeline HPD has for applicants. The Honolulu Police Department (HPD) continually hires Metropolitan Police Recruits (MPRs) through the joinhonolulupd.org website. Once the HPD receives an online application, the hiring process begins. The length of time it takes to onboard an MPR varies between approximately three to six months. The hiring timetable is influenced by several factors such as the time it takes applicants to self-schedule their appointments and meet deadlines or the time necessary to verify information during the background phase. Other unforeseen factors may come into play that could further delay the process. The HPD welcomes the public to explore the joinhonolulupd.org website to chat with a recruiter or to learn more about the hiring process.

5. Duke Kahanamoku Statue: Member Weineck requested an updated status on ropes wrapped around Duke Kahanamoku's Statue for camp tents. Department of Facilities Maintenance (DFM) Stored Property Branch with the Honolulu Police Department (HPD) investigated the complaint of ropes wrapped around the Duke Kahanamoku statue in Waikiki on October 10, 2022. No ropes used for camping tents were found. Please contact the Department of Parks and Recreation to report such incidents in the future. The Department of Housing will continue to send outreach to Waikiki Beach through the WBIDA Homeless Outreach Program, CORE, and I.H.S. We would need to defer to DFM for rules regarding having ropes tied to the statue itself, and DFM may need to work with HPD to mitigate that specific issue.
Questions, comments and concerns followed:

1. Homeless: Member Smith asked for an updated status regarding 806 Wiliwili Street homeless individuals. Residents also reported homeless individuals at the intersection of Ala Wai Blvd and Kalakaua Ave, near the Waikiki Trademark.

2. Surf Racks: Member Henski asked for an updated status on removing or rebuilding the surf racks on Kalakaua next to the Police Station.

3. Tiki Torches: Member Brown asked for an updated status on lighting the tiki torches on Kuhio, by the Mahu Stones and Kalakaua.

4. Pay Phones: Member Filek asked for an updated status regarding the removal of pay phones in Waikiki: In front of Longs/Bank of Hawai'i/ Aloha Brewery at Kalakaua and Beach Walk; Kalakaua mauka side at the park on Kapi'olani Park walking path across from the Dillingham fountain by the Elks club.

5. Flying Trash: Member Weineck requested an updated status of cleaning up flying plastic bags and trash in front of the Waikiki Pavilions. (Rolled over from October's report - Previously sent request to ENV)

6. Kuhio Beach: Member Brown requested an updated status on the Kuhio Beach Landscaping Project.
Special Session: Chair Finley had a request from Matt Dvonch in the Prosecutor's office for the board to support a special session at the legislature. Dvonch explained the process and 40-year timeline of prosecuting serious felonies on the first degree. Currently, the Supreme Court of Hawai'i instituted new court rules to govern how preliminary hearings would work. Unfortunately, the legislature overlooked statute 801-1 using preliminary hearings to convict serious felonies considered unlawful. As a result, all court cases in cue for preliminary hearings needs will be dismissed. Approximately 168 cases affected on O'ahu and 220 cases on Hawai'i Island.
Finley Motioned and Henski Seconded to Support the Prosecutor's Office to Have a Special Session was APPROVED UNANIMOUSLY by a Raise Hand Vote.
Council Chair Tommy Waters: Tommy Waters gave the following report:

• Bill 43: Gave an updated report on bill 43.

• Bill 23: Referred back to Councilmember Say for amendments.

• Property 1615 Ala Wai: Gave an updated report that property is in City and County of Honolulu possession.

• Audit: Drafted a Performance Audit for the Department of Planning and Permitting to streamline process.
Questions, comments and concerns followed:

1. 1615 Ala Wai: Resident asked and Waters replied the City and County of Honolulu owns the property costing $3.2 million.

2. Building on 1615 Ala Wai: Henski asked and Waters responded the building structure on property will most likely be torn down and rebuilt. Asked for feedback from the board on how tall the structure should be.

3. Noise from Mopeds: Chair Finley asked and Waters responded need to observe if HPD is citing mufflers on mopeds. Waters suggested promoting electric bikes in near future.

4. Geographic Restrictions: Resident Deutsman commented concerns regarding the enforcement of geographic restrictions.

5. Surf Racks: Resident Gary commented concerns regarding re building the Waikiki Surf Racks
Senator Sharon Moriwaki: Senator Moriwaki gave an overview of newsletter and highlighted the following.

• Red Light: Gave an updated report on "No right turn on Red" Cameras.

• Pilot Program: New "Safe and Sound" pilot program regarding safety in Waikiki until October 2022.
Questions, comments and concerns followed: Diagonal Crossing: Resident commented concerns regarding details of pilot program.
Representative Adrian Tam: Representative Tam gave a quick overview of his monthly report.
Governor David Ige: No representative. Capital Connection Monthly report was distributed during the meeting.
Waikiki Improvement Association: Rick Egged reported the following:

• Progress: Some improvement since "Safe and Sound Project" in place.

• Homeless: Lack of treatment programs is the missing factor with homeless.

• Complete Streets: Encouraged the community to attend town hall meeting on October 26, 2022 at 6:00p.m.

• Parking Requirements: Law states no parking requirement of commercial properties.
APPROVAL OF MINUTES

September 13, 2022 minutes was approved as written.
ANNOUNCEMENTS

The City and County of Honolulu is holding a community meeting on Wednesday, October 26, 2022 to receive public input on proposed improvements on Ala Wai Boulevard.
Next Meeting will be on Tuesday, November 1, 2022 at 6:00p.m.

ADJOURNMENT - The meeting adjourned at 8:29 p.m.
Submitted by: Judi-Ann Smith-Kauhane, Neighborhood Assistant

Reviewed by: Lindon Valenciano, Public Relations Assistant

Final Review:
Featured Product/Service
<!998Template_start>
<!998Template_end>
---
Please send questions about this website to