Community website by MBC/Ernest Abrams. Call 808-739-9797 for advertising/sponsorship.
Waikiki Get Down - Honolulu, Hawaii
News Item

Waikiki Neighborhood Board Meeting SEPTEMBER 2022 Minutes
With Permission / Courtesy of
: City and County of Honolulu Neighborhood Commission Office
<!#450IMAGESTART>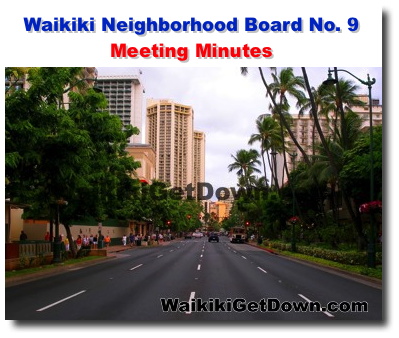 <!#450IMAGEEND>
Waikiki Neighborhood Board No. 9
September 2022 Minutes
WAIKIKI NEIGHBORHOOD BOARD NO. 9

REGULAR MEETING MINUTES - DRAFT

TUESDAY, SEPTEMBER 13, 2022

VIA WEBEX AND WAIKIKI COMMUNITY CENTER
CALL TO ORDER: Chair Robert Finley called the meeting to order at 6:01 p.m. There were difficulties with the meeting link via WebEx, which delayed members to join the meeting. A quorum was established with nine (9) members present. Note: This 17-member Board requires nine (9) members to establish quorum and to take official board action.
Board Members Present: Michael Brown, Tommy Penrose, Robert Donaldson, Louis Erteschik, Robert Finley, Jacob Wiencek, Kathryn Henski, Melissa Filek and, John Nigro.
Board Members Absent: Robert Boyack, Lisa Cabanero, Jeffery Merz, Mark Garrity, Helen Carroll, Mark Smith, and Bowe Souza
Guests: Hawai'i Fire Department (HFD); Nola Miyasaki (Mayor's Rep); Senator Sharon Moriwaki, Representative Adrian Tam, Council Chair Tommy Waters, Keola Fisher (Tommy Waters Rep); Dominic Dias (BWS); Renee Espiau, Bruce Lekeit, Lloyd White, Katherine Lee, Katherine Li, Brian H., Sally, Kaleo Nakoa, Joan Davis, Isaiah Sat, R.M. Towill, John Deutsman, Karen O'Neil, Perry Sweeny, Lori Anderson, Pat Moore, Denise Boisvert, Netty Max, Curtis Miller, Lorriane Wells, Jillian Anderson, Jennifer Ingellis-Dupre, Carlino Giampolo, Nilie Hartman, Kristie Tokifuji, Black Boyd, Any Parsons, Olelo, and Judi-Ann Smith-Kauhane - Neighborhood Assistant. Total Online and In-Person Participants: 49
Notice: Chair Finley reported The November Meeting of the Waikiki Neighborhood Board has moved to Tuesday, November 1, 2022 due to the General Election happening on Tuesday, November 8, 2022 and recess in December 2022.
CITY MONTHLY REPORTS

Honolulu Fire Department (HFD): Gave the August 2022 report:

One (1) structure fire, one (1) nuisance fire, 13 activated alarms, 197 medical calls, and, four (4) motor vehicle crash/collusions.

Safety Tip for September 2022: Fire safety is important for everyone, including our children. Explore www.fire.honolulu.gov to access more family-friendly fire and life safety resources.
Questions, comments and concerns followed: Inspection: Finley asked if HPD still conducts fire safety inspections for Senior Citizens in their homes and apartments.
Honolulu Police Department (HPD): No Representative. Statistics for August/September 2022 found at https://www.honolulupd.org/.
Board of Water Supply (BWS): Dominic Dias report no main breaks for the month of August 2022.

Water Tips: Water Shed Protection. For more information go to www.bws.org.
Questions, comments, and concerns follows:

1. Undergrown Leak: Member Filek inquired about reporting an underground water leak.

2. Presentation: Chair Finley recommended if Director Ernie Lau's presentation on the BWS website.
RESIDENTS' / COMMUNITY CONCERNS:

• ABC Permit: Chair Finley commented the owner of ABC stores are attempting to get a permit from the Department of Permitting and Planning in order to demolish old homes on Seaside and Kuhio occupied by homeless people starting fires on the property.

• Report: Resident John Deutsman gave an updated report of Waikiki crime.

• Bill 23: Resident Giampolo submitted and gave verbal testimony regarding Bill 23.

• Zoo Structure: A resident commented about the upgrading of the Honolulu Zoo. Finley will forward information to the Diamond Head Board #5.

• Garbage Collection: A resident commented concerns regarding garbage picked up before 6:00a.m.

• Street Racing: A resident commented concerns regarding increased incidences of street racing in Waikiki.

• Races: Mid-Pacific Road Runners Club is having two (2) races in Waikiki: Sunday, October 16, 2022 - 10K race, and Sunday, October 23, 2022 - 30k race.

• Homeless Camp: Resident White commented concerns of the homeless camp in front of Duke's Statue on the beach on Kalakaua Ave.

• Emergency Response: Community member Nakoa commented concerns regarding the efficiency of emergency services while several of festivals happen on Kalakaua Ave.



PUBLIC EVENTS: Chair Finley reported the events listed on the September 2022 agenda.



APPLICATION FOR LIQUOR LICENSE:

• 888 Phoenix, 209 Kaiulani Ave, Unit 10, Cat 1. Note: This license is pending on the Honolulu Liquor Commission. A resident spoke out in opposition to this liquor license. Discussion Followed. Due to lack of sound, discussion was spotty.
The Waikiki Neighborhood Board Decided to Write a Letter addressed to the Hearings Officer to Oppose the Liquor License application for 888 Phoenix at 209 Kaiulani Unit 10.
• October 20 King of Thai Boat Noodle 2, 2145 Kalakaua Ave, Restaurant General Category 2 license.
ELECTED OFFICIALS AND OTHERS

Mayor Rick Blangiardi's Representative: Nola Miyasaki gave the following report:

• City Affordable Housing Fund - 972 affordable housing units proposed in neighborhoods across O ahu within the next five years

• $30 million in grants were awarded for local non-profits

• City wins $20 million grant for E-Buses

• The United Korean Association of Hawaii (TUKAH) will establish a community center in Makiki District Park

• The Department of Environmental Services reminds businesses and the public Ordinance 19-30, also known as Bill 40 or the Disposable Food Ware Ordinance (DFWO), will be effective in its entirety starting September 6, 2022

• Mayor's Highlights may be found at https://www.oneoahu.org/newsletter
Follow-up responses from last month's meeting:

1. Honolulu Emergency Services Department (HESD), Honolulu Fire Department (HFD), Honolulu Police Department (HPD) - Sirens and horns: Board and residents raised concerns regarding the use of sirens and horns at late-night hours (from 10pm to 6am). Specifically the use of HFD-horns. Residents have reported disrupted sleep cycles due to the amount of noise. Would vehicles consider using just lights and sirens?

a. HFD: Section 15-4.4 of the Traffic Code of the City and County of Honolulu mandates the use of audio-warning devices by all authorized emergency vehicles. More importantly, audio-warning devices, which include sirens and air horns, facilitate a timely delivery of emergency services. Please be assured that these devices are used only as necessary to prevent a delay of emergency services, unnecessary property damages, or loss of lives by warning drivers and pedestrians that they need to yield the road to an emergency vehicle. While it may appear there is no traffic, the use of lights and sirens warn other drivers and pedestrians they must yield to an emergency vehicle. This allows our personnel to respond safely, efficiently, and legally.

b. HESD policies and procedures for operating emergency vehicles are consistent with the requirements established in Hawaii Revised Statute § 291C-26 Authorized Emergency Vehicles. The City and County of Honolulu does not have jurisdiction over Hawaii Revised Statutes. As stated in the HRS, when EMS personnel are responding to what is deemed as an emergency, they may exercise the privileges as set in HRS § 291C-26. These requests for the right away only apply if the vehicle is "making the authorized audible and visual signals." This HRS requires authorized emergency vehicles like EMS and HFD to use both lights and sirens and does not make any exception for traffic conditions being the determinate as to whether or not we must use the sirens. The only exception is for police vehicles.

c. As much as EMS would like to decrease the amount of noise pollution for the public, we are bound to follow the HRS. That being said, EMS employs a sophisticated computerized dispatch medical priority system to ensure that EMS only utilizes light and siren response when there is a reasonable threat to life or limb. This helps ensure everyone's safety by ensuring EMS does not respond with lights and sirens to lower-acuity or non-life-threatening events that still require on-scene medical care.

d. HPD: Honolulu Police Department policy requires the use of lights and siren when responding to emergency calls. Horns are used only when traffic impedes the emergency response

2. Honolulu Police Department (HPD) - Races on Ala Wai Blvd: Residents reported racing on the Ala Wai at night between Paokalani Avenue and Kapahulu Avenue.

a. HPD: Officers monitored the area of Ala Wai Boulevard between Kapahulu Avenue and Paoakalani Avenue for vehicles exceeding the posted speed limits, but no violations were observed. They will continue to monitor the area and take appropriate enforcement action when violations are observed.

b. It would help the police for persons witnessing any possible violation to immediately call 911 at the time of occurrence so that the responding officer can observe the violation and take enforcement action or to meet with the caller.

3. Honolulu Police Department (HPD), Mayor's Office (MAY) - Crimes in Waikiki: Does HPD / Administration have a statement regarding recent criminal activity and incidents in Waikiki (7-11 attempted murder, gunman on Kalakaua). Board referred to Mayor's statements regarding Chinatown.

a. HPD: In the past several months, Waikiki has had several isolated but high profile incidents. The suspects in those cases were arrested by responding police officers.

b. On Tuesday, September 6, 2022, the Mayor, Department of the Prosecuting Attorney, and the Honolulu Police Department (HPD) held a joint press conference to announce the start of "Safe and Sound Waikiki," a law enforcement strategy modeled after the successful "Weed and Seed" program implemented in other patrol districts. It allows for the immediate charging of criminal misdemeanor and felony crimes in Waikiki and reduces the number of suspects who are immediately released from custody and then return to the streets only to reoffend days after their release. The "Safe and Sound Waikiki" program will enable the HPD to arrest and remove chronic criminal offenders of violent and property crimes from Waikiki.
Questions, comments and concerns followed:

1. Pavilion 4: Residents requested an updated status on Pavilion 4.

2. Vehicle Access: Penrose asked how emergency vehicles accesses locations if they are on a parade route.

3. St Augustine Church: Weineck requested an updated status on cleaning the front of St. Augustine's Church.

4. HPD Hiring Process: asked what is the hiring process and timeline HPD has for applicants.

5. Camp Tents: Weineck requested an updated status on ropes wrapped around Duke Kahanamoku's Statue for camp tents.

6. Trash: Weineck requested an updated status of cleaning up flying plastic bags and trash in front of the Waikiki Pavilions.
Dedicated Bus Lane on Kuhio Ave. Proposal: Renee Espiau gave a PowerPoint presentation. Due to technical difficulties, this presentation will be re-presented in October's or November's meeting.
Senator Sharon Moriwaki: Senator Moriwaki gave an overview of newsletter and highlighted the following.

• Pilot Program: New "Safe and Sound" pilot program regarding safety in Waikiki.

• Bus Passes: Subsidizing bus passes from the Department of Education.

• Mauna Kea Management: Regarding Astronomy technology.
Questions, comments and concerns followed.

1. Red Light Cameras with Mics: Brown commented Australia has mics attached to the red light cameras to pick up noise levels in the intersections.

2. Historic Preservation: Weincek commented excessive sites deemed as historical sites (50 years+) but letting other sacred sites fall through the cracks. Need to narrow focus on what is "considered historical."

3. International Space Station: Nakoa commented concerns of Mauna Kea, Thirty Meter Telescope (TMT) and Astronomy technology. Hawaiian History used to navigate the stars is readily available for information.
Council Chair Tommy Waters: Keloa Fisher informed the board that Tommy Waters is on his way to the meeting. Tommy Waters gave the following report:

• Safe and Sound Program: Pilot program with $250,000+ budget to work on getting the judiciary on board for prosecution. Currently there is no geographical jurisdiction.

• Bill 43: Gave an updated status on bill 43.

• Height and Density: Proposed discussion on increasing height and density in certain areas in Waikiki.

• Vacancy: Various vacancies in the City and County of Honolulu.
Questions, comments and concerns followed:

1. Bill 43 and Bill 23: Erteschik asked for advice regarding bill 23 and 43.

2. Three Strikes: Henski asked how the courts would decide judgment for offenders using the geographic jurisdiction.

3. Economical Housing: Henski commented what is higher density in relation to economical housing.

4. Bill 46: Weincek asked various questions regarding bill 46, bill 10 and historic preservation housing.
Representative Adrian Tam: Representative Tam gave a quick overview of his monthly report.
Governor David Ige: No representative. Capital Connection Monthly report was distributed during the meeting.
Waikiki Improvement Association: No Representative. No report given.
NEW BOARD BUSINESS

Hale Lauula Project Update - Isiah Sato - Deferred to next month's meeting.
APPROVAL OF MINUTES

August 9, 2022 minutes were approved as drafted.
ADJOURNMENT - The meeting adjourned at 8:37 p.m.
Submitted by: Judi-Ann Smith-Kauhane, Neighborhood Assistant

Reviewed by: Lindon Valenciano, Public Relations Assistant

Final Review:
Featured Product/Service
<!998Template_start>
<!998Template_end>
---
Please send questions about this website to