Community website by MBC/Ernest Abrams. Call 808-739-9797 for advertising/sponsorship.
Waikiki Get Down - Honolulu, Hawaii
News Item

Waikiki Neighborhood Board Meeting MAY 2022 Minutes
With Permission / Courtesy of
: City and County of Honolulu Neighborhood Commission Office
<!#450IMAGESTART>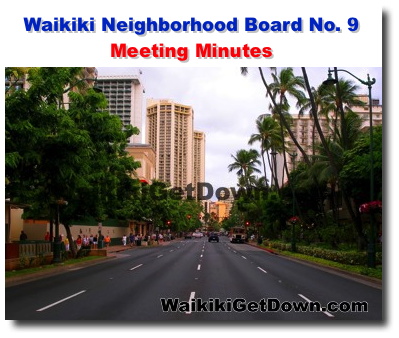 <!#450IMAGEEND>
Waikiki Neighorhood Board No. 9




May 2022 Minutes
WAIKIKI NEIGHBORHOOD BOARD NO. 9

REGULAR MEETING MINUTES - DRAFT

TUESDAY, MAY 10, 2022

VIA WEBEX
CALL TO ORDER: Chair Robert Finley called the meeting to order at 6:00 p.m. There were difficulties with the meeting link via Zoom, which delayed members to join the meeting. A quorum was established with 15 members present. Note: This 17-member Board requires nine (9) members to establish quorum and to take official board action.
Board Members Present: Jerome Bautista, Robert Boyack, Lisa Cabanero, Jeffrey Merz, Bowe Souza, Mark Garrity, Robert Lee Donaldson, Louis Erteschik, Robert Finley, Jacob Wiencek, Michael Brown, Kathryn Henski, Melissa Filek, Mark Smith, and Helen Carroll (arrived at 6:27 p.m.).
Board Members Absent: John Nigro.
Guests:

Lieutenant D. Toma (HPD); Dominic Dias (Board of Water Supply); Zosimo Arista (Hawaii State Council on Developmental Disabilities); Nola Miyasaki (Mayor Rick Blangiardi's office); Senator Sharon Moriwaki; Keola Fisher (Council Chair Tommy Waters' office); Representative Adrian Tam; Rick Egged (Waikiki Improvement Association); Ikaika Olds, Dr. Kathrine Li, Laura Ruby, Bruce Lenkeit, Art Korb, Midori Trent, Lloyd White, Kirra Downing, John Deutzman, Carlino Giampolo, Patricia Shields Michelle Manna, Pam Walker, Denise Boishut (Residents) Carlino Eiampolo, Pam Walker, Roy Irei, Jennifer Ingellis, Deb Knight, James Menalakis (in person); and Partner Akiona (Neighborhood Assistant) 41 participants present.
CITY MONTHLY REPORTS

Honolulu Fire Department (HFD): The following report was sent and read by Chair Finley.

• May 2022 Statistics: There was four (4) structure fire, seven (7) nuisance fires, 11 activated alarms, 226 medical emergencies, four (4) motor vehicle crashes, and three (3) hazardous materials incidents.

• Safety Tip: Home Fire Sprinklers and Wild land Fires over the summer. For more updates and information, please go to https://www.honolulu.gov/hfd.
Honolulu Police Department (HPD): Lieutenant D. Toma reported the following:

• May 2022 Statistics: There was seven (7) robberies, 12 burglaries, 190 thefts, 42 UEMV, 34 assaults, six (6) sex crimes, 30 skateboard and bicycles on the side walk violations, 16 speeding, 2577 parking violations, six (6) loud muffler, 226 park closure violations, and 11 arrests. For more information which may be found at https://www.honolulupd.org/.

Questions, comments and concerns followed:

1. Loud Mufflers: Member Garrity complemented HPD for increase ticketing of the loud muffler violations.

2. Arrests in District 6: Resident Deutzman reported as of Tuesday, May10, 2022; 238 arrests of 166 individuals.102 of those people are repeat offenders. Further details were given on repeat offenders.

3. Pavilion 4: Resident White commented pavilion 4 on Kalakaua across from the Aspen Resort has become a "shelter" for the homeless. At times, it is hard to walk on the sidewalk.

4. Exposed Individual: Resident Menalakis commented was robbed and gotten hit on the head with a pistol at 5:00am between Paokalani and Kuhio on Tuesday, April 12. Three weeks later in the same area, a man was naked and the cops surrounded him. A few hours later, the naked man was two blocks up the street harassing people. What is the plan to beef up the police presence in Waikiki?

5. Community Patrol: Resident Knight commented the community to support HPD by having a formal community patrols and be a layer of safety between the police.

6. Increase of Nudity in Waikiki: Member Henski commented there has been an increase of nudity in Waikiki especially by the Honolulu Zoo. A news article posted that HPD will be increasing their numbers in Waikiki.

7. Invitation for HPD Policing Program: Chair Finley requested to Lieutenant Toma if the policing program could attend next month's Waikiki board meeting to give us an update and meeting with the community.
Board of Water Supply (BWS): BWS representative Dominic Dias reported the following:

• Leak Detection: Residents might learn about leak detection at https://www.boardofwatersupply.com/conservation/leak-detection.

• Conserving Water: Due to a lack of rainfall and heading into the summer months, be conscience about water usage. For more information go to www.protectwater.org for tips in conserving water.

• Main Breaks: Two (2) 12" main water breaks on the same line on Kai'ulani Ave.

Questions, comments and concerns followed: Ina Road: Member Filek asked if there was a main break on Ina Road.
RESIDENTS' / COMMUNITY CONCERNS:

• HB 1567CD1: Chair Finley announced he attended a meeting with several of State, City, and high-level community leaders regarding the increasing crime in Waikiki and the opposition of HB 1567CD.

• Judicial Discretion: Senator Moriwaki commented she and Representative Tam voted in opposition of this bill giving judicial discretion for repeat offenders. Bill has too much of a broad spectrum for repeat offenders.

• Resolution: Chair Finley drafted a resolution to have Governor Ige veto this bill. Discussion Followed.

Questions, comments and concerns followed:

1. Comparison: Vice Chair Erteschik asked both Senator Moriwaki and Representative Tam to clarify the difference of HB 1567CD1 as to the Conference version of this bill.

2. Compassionate System: Resident Deutzman commented HB 1567CD1 is built on an ideal justice system that does not exist in Waikiki. Releasing too many repeat offenders.

3. Funding for Repairs: Member Weincek asked is there funding for repairs and renovations of (O'ahu Community Correctional Center (OCCC).
PUBLIC EVENTS - Chair Finley reported the events listed on the May 2022 agenda.
APPLICATION FOR LIQUOR LICENSE: Vive Waikiki: Hearing date is Thursday, June 16, 2022.
ELECTED OFFICIALS AND OTHERS

Mayor Rick Blangiardi's Representative - Director of Human Resources (DHR) Nola Miyasaki reported the following:

• Mayor's Monthly News Letter: The Mayor announced monthly newsletter located at www.oneoahu.org/newsletter. Director Miyasaki gave highlights on the newsletter.

• Responses: Director Miyasaki gave updates and responses to May 2022 Mayor's concerns.

• Bill 23: Regulated time for private operated garbage trucks in residential zones. Will give an updated status at next month's meeting.

Questions, comments and concerns followed:

1. Policing Team: Chair Finley requested the policing team to attend the next board meeting.

2. Complete Streets: Member Weincek commented what year will Ala Wai Blvd. have complete secured bike lanes and other streets in Waikiki such as Kalakaua.

3. Next Step Shelter: Member Henski commented what happened to the homeless living at the Next Step Shelter after the shelter closed.

4. Re-painted Bike Lanes: Member Merz commented the bike lanes on Kalakaua ave. need to be repainted.

5. Bill 41: Chair Finley commented due to Bill 41 the cast of musical, Hamilton asked if they needed to rent rooms for 90 days. Their performance is for two (2) months.

6. Reopening Shelter: Resident Olds commented if family assessment center reopening in Kaka'ako or other locations providing basic needs.

7. Enforcement: Resident White commented about signage regarding shopping carts.

8. Pavilion 4: Resident Deutzman asked for an updated status on the repairing of Pavilion 4.
Council Chair Tommy Waters - Keola Fisher reported the following:

• Virtual Town Hall: Council Chair Waters is hosting a virtual town hall meeting on Thursday, May 26, 2022 from 6:00 p.m. to 7:00 p.m. on Waikiki's crime and safety.

• Finalizing Budget: Honolulu City Council finalizing fiscal 2022-2023 budget: $1million for HPD patrol; $50,000 for Neighborhood Board outreach; and $500,000 for Waikiki War Memorial Natatorium restoration.

• Park Rangers: Bill 47; Park Ranger Program is to give citing and civil fine powers though the American Rescue Plan. Currently power is only with HPD.

• Bill 43: Continued effort made to work on Bill 43 regarding amplify sound in Waikiki.
Senator Sharon Moriwaki - Senator Moriwaki gave an overview of newsletter and reported the following:

• Hawaiian Homelands: $660 million awarded to Hawaiian Homelands infrastructure.

• Kupuna Care: Long-term care programs to help Kupuna age in their own homes.

• Excessive Noise and Crime: Many did not make it; room to work on for next year.

• Institute of Human Services: $1.6 million to fund for homelessness for various programs.

• Re-entry for inmates: Program for inmates released from prison.

• Sea Level Rise: Program working on sea level rise.

Due to technical difficulties, questions, comments, and concerns were not herd in recording.
Representative Adrian Tam - Representative Tam gave an overview of newsletter and reported the following:

• 2023/2024 Budget: $500 million was put away for next year's budget.

• Rainy Day Fund: $500 billion in addition to the current $275 million in the rainy day fund.

• Dental: $25 million to Med Quest/Medicade dental to cover teeth cleaning.

• Preschool Open Doors: $6.9 million for preschool open doors.

• Sex Trafficking: $400,000 assistance for sex trafficking victims.

• Institute for Human Services (IHS): $1.95 million into grants for IHS.

Governor David Ige - Scott Glen sent a link for the Governor's monthly newsletter and reported the following:

• Living with Covid: Overview procedures in obtaining free covid tests and boosters.

• Renewable Energy: Hawai'i has gone from 20% to 40% of renewable energy resources. O'ahu is at 33%.

• Solar Roof Tops: Hawai'i has the most roof top solar panels in any state. Maximizing our geography location.

• Feedback: Go to www.govenor.hawaii.com to give feedback and submit comments on legislation until June 27, 2022.
Waikiki Improvement Association: Rick Egged reported that events in Waikiki and on Kalakaua Avenue may be found at https://www.waikikiimprovement.com/events.
APPROVAL OF REGULAR MEETING MNUTES: March 2022 and April 2022 was approved by Unanimous Consent.
NEW BOARD BUSINESS - City Council Bill 23: The board discussed Bill 23 under "Community Concerns" in April 2022 neighborhood board meeting. Henski MOVED, Cabanero SECONDED for the Waikiki Neighborhood Board No. 9 to Support Bill 23. The motion was adopted by UNANIMOUS consent.
Dish Installation on Two Buildings in Waikiki: Roy Irei from Hawai'i Engineering Group presented to the board an installation of two (2) dishes on the Ala Wai Terrace and The Luana Waikiki Hotels. Requesting a permit from the Department of Planning and Permitting to comply and install these dishes. Discussion Followed. Finley MOVED, Brown SECONDED for the Waikiki Neighborhood Board No. 9 to support dish installation by DISH Wireless. The motion was adopted by UNANIMOUS consent.
Legislative Report: Vice Chair Erteschik gave an overview update of various bills affecting the Waikiki community. Discussion Followed.
REPORTS

Treasurer's Report: Reported by Treasurer Bautista of $249.40.
Sub district 1 Report: There was no report.
Sub district 2 Report: There was no report.
Sub district 3 Report: Member Henski gave an updated report regarding meeting with the students of the University Of Hawai'i Department Of Architecture.
Chair Report: Chair Finley thanked all attendees in the meeting.
Finley MOVED, Henski SECONDED for the Waikiki Neighborhood Board No. 9 May regular meeting to be adjourned. The motion was adopted by UNANIMOUS consent.
ANNOUNCEMENTS

The next regular meeting will be on Tuesday, June 14, 2022 at 6:00 p.m.
ADJOURNMENT - The meeting adjourned at 8:28 p.m.
Submitted by: Judi-Ann Smith-Kauhane, Neighborhood Assistant

Reviewed by: Partner Akiona, Neighborhood Assistant

Final Review: Robert Finley, Board Chair
Featured Product/Service
<!998Template_start>
<!998Template_end>
---
Please send questions about this website to