Community website by MBC/Ernest Abrams. Call 808-739-9797 for advertising/sponsorship.
Waikiki Get Down - Honolulu, Hawaii
News Item

Waikiki Neighborhood Board Meeting JANUARY 2022 Minutes
With Permission / Courtesy of
: City and County of Honolulu Neighborhood Commission Office
<!#450IMAGESTART>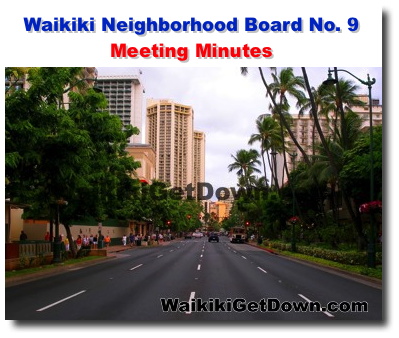 <!#450IMAGEEND>
Waikiki Neighborhood Board No. 9
January 2022 Minutes
WAIKIKI NEIGHBORHOOD BOARD NO. 9

REGULAR MEETING MINUTES

TUESDAY, JANRUARY 11, 2022

VIA ZOOM
CALL TO ORDER: Chair Robert Finley called the meeting to order at 6:09 p.m. due to technical difficulties. A quorum was not established with eight (8) members present. Note: This 17-member Board requires nine (9) members to establish quorum and to take official board action.
Board Members Present: Jerome Bautista, Louis Erteschik, Robert Finley, Robert Donaldson, Bowe Souza, Michael Brown, Kathryn Henski, and Melissa Filek.
Board Members Absent: Robert Boyack, Lisa Cabanero, Helen Carroll, Jeffrey Merz, Raiyan Rafid, Jacob Wiencek, John Nigro, and Mark Smith.
Guests: Steve Alm (Honolulu Prosecuting Attorney), Captain Miles Bellis (Honolulu Fire Department), Major Randal Platt (Honolulu Police Department), Lieutenant Ono (Honolulu Police Department), Dominic Dias (Board of Water Supply), Nola Miyasaki (Mayor Rick Blangiardi's office), Representative Adrian Tam, Scott Glen (Governor's Representative), Rick Egged (Waikiki Improvement Association), Mark Garrity (OMPO), David Jones, Anthony Nagatani, Alec H., David Jones, Hector Euredjian, Sono, Laura Ruby, Melodie Aduja, HI Chapter, Isaiah Sato, Midori Trent, David Jones, John Deutzman, and Denise Boisvert,(Residents) 'Olelo Television and Judi-Ann Smith-Kauhane (Neighborhood Assistant). 33 participants present.
CITY MONTHLY REPORTS

Honolulu Fire Department (HFD): HPD Captain Miles Bellis reported the following:

Statistics for December 2021: one (1) structure fires; five (5) nuisance; zero (0) wild and brush fire; 18 activated alarms; 187 Medical emergencies; two (2) motor vehicle collusion with pedestrian; four (4) motor vehicle crash/collisions; two (2) mountain rescues; one (1) ocean rescues; and three (3) Hazardous Materials Incidents.

Fire Safety tip: Captain Bellis spoke about Electrical Safety.
Honolulu Police Department (HPD): Lieutenant Ono reported the following:

Statistics for the month of December 2021: 13 robberies; 21 burglaries; 221 thefts; 27 UEMV; 35 assaults; six (6) sex crime; 89 bike and skateboard; six (6) speeding; 2509 parking citations; two (2) loud muffler; and 5706 total calls for service. More statistics found at https://www.honolulupd.org/.

Questions, comments, and concerns following:

1. Loud Mufflers: Finley commented on complaints of loud mufflers on the Ala Wai and Seaside Ave.

2. Fire Crackers: Donaldson requested the statistics on citations for loud firecrackers around the Ala Wai and Kuhio area starting in November 2021.

3. Thefts: Deutzman commented thefts are up 51% from December 2020 to December 2021.
Honolulu Prosecuting Attorney: Steve Alm reported the following:

• Frequent Flyers: The prosecutor's office is working closely with the Honolulu Police Department (HPD) to address "Frequent Flyers" - repeat offenders under section 708-803 Hawai'i Revised Statute.

• List: Due to the 708-803 Revised Statute being very broad, the prosecutor's office is working with HPD to come up with a list of repeat offenders.

• Show Up to Court: In order for the offender to be charged, the witness needs to show up to court unless the police catches them in the act of a crime.

• Intentional Conduct: An offender convicted of a crime on their second offense and charged with jail time.

• Mental Health Issues: Prosecutors office will be working with HPD to recognize repeat offenders that have mental health issues. Assigned to the Hawai'i State Hospital for assessment.

• Weed and Seed: Working the Police department in Chinatown not to charge the camped persons on the sidewalk unless they are caught doing illegal activity. Need to interrupt the illegal activity in their lives in order to fix the problems. Waikiki would be a good fit for this program.

• Treatment Program Agreement: When offenders are arrested for a drug or alcohol crime (mainly focusing on homeless); In-take Service Center will assess the person and are asked a five (5)-question screening with the fifth question asking if they want drug treatment assistance. Department of Health (DOH) will take over and access when the person agrees to treatment. During the court case, the DOH will send the results of the assessment recommending treatment and the court will sign off and will send them straight to the facility. Whole process should take 2 weeks. Substance Use Disorder Assessment (SUDA)-Fast program.

• ACT: Assisted Community Treatment is a program built to help homeless with mental health issues get treatment and off the streets.

• River of Life: Director Anton Krucky is assisting with moving River of Life feeding operation from the corner of Maunakea and Pauahi to Iwilei to clear out the Maunakea area.

• Community Meetings: Create community meetings to get input from residence of what the needs are in person.

Questions, comments and concerns followed:

1. Tracking Arrest Reports: Deutzman commented the amount of repeat offenders in Wakiki.

2. Supreme Court Order: Alm commented The Supreme Court ordered no bail on misdemeanor or petty misdemeanor charges. Covid changed the ruling.

3. Top 10: Alm requested Deutzman to send a list of the top 10 repeat offenders to Major Platt at HPD.

4. Inconsistent Competency: Deutzman commented some repeat offenders are prosecuted as mentally unstable in one court case, then mentally stable in another case. There has to be a consistent process.

5. Kapahulu and Kalakaua: Henski commented on couple of people in the Waikiki that are mentally unstable and nothing was done in their situation.

6. Survey and Assistance: Finley commented the board will participate in the survey for feedback and recommended Rick Egged from Waikiki Improvement Association to help with input from businesses.
Board of Water Supply (BWS): BWS representative Dominic Dias was unable to attend the meeting. Chair Finley gave the following report:

• Despite the major rainfalls, please use your water wisely.

• Any new projects for (BWS) will be available online www.boardofwatersupply.com.
RESIDENTS' / COMMUNITY CONCERNS: No bridge over the Ala Wai Canal: Ruby shared comments on opposing the bridge over the Ala Wai canal.
PUBLIC EVENTS

• Lokahi Festival scheduled at 2 pm to Midnight on Saturday, February 12, 2022.

• O'ahu Festival scheduled at 2pm to Midnight on Saturday, March 12, 2022.

• St. Patrick's Day Parade at 11:30am to 1pm Thursday March 17, 2022.

• Vietnam Veterans Parade scheduled at 5:30pm to 8pm Tuesday, March 28, 2022.
ELECTED OFFICIALS AND OTHERS

Mayor Rick Blangiardi's Representative: Director of Customer Services (CSD) Nola Miyasaki reported the following:

• Pavilions at Waikiki Beach: Update on Pavilion 4 and other pavilions in Waikiki.

• Follow Up with HPD: Honolulu Police Department has made crime in Waikiki a priority.

• Electric Scooters: As of July 2022, electric scooters are not allowed on the sidewalks.

• CORE Program: Invite Director Anton Krucky or Dr. Ireland to the next neighborhood meeting.
Council Chair Tommy Waters: Council Chair Waters reported the following.

• Bill 40: Updated information on Short-term rentals in the apartment district of Waikiki.

• New Website: City Council developed a new website: www.honolulucitycouncil.org to look up Bills to submit testimony and feedback.

• Survey: Will assist and use mailing allowance to help participate in any community meeting to bring the "Weed and Seed" program to Waikiki.

• Bill 43: Updated information on Proposed Noise Ordinance on the agenda for February 2022.

• Bill 48: Updated information Red Hill storage tanks and on storing fuel over an aquifer would require a permit from the City and County.

• 1615 Ala Wai: Updated information on condemnation of this property and assessing the property value to build low-income housing.
Questions, comments and concerns followed:

1. Bill 43: Finley asked and Waters responded the Transportation committee chaired by Cordero is working on Bill 43.

2. Bill 41: Resident Hector commented about Bill 41 focusing in legal rentals in the resort district in Waikiki, possible charge of the resort tax on these legal rentals.

3. Ala Wai Bridge: Ruby commented of the cost and stop the funding the Ala Wai Bridge.

4. Support: Henski reiterated the support of the Neighborhood Board with the Ala Wai Bridge.
Senator Sharon Moriwaki & Representative Adrian Tam Joint Report: Representative Tam combined both his and Senator Moriwaki reports together. Representative Tam reported the following.

• First Day of Legislative Session: Newsletter with updates will be sent out with information on the current bills in the next month.

• Covid Restrictions: Due to the high positive cases of covid, the Capitol is closed to the public for the beginning of the legislative session until covid procedures can be put in place.

• Lemon Road: Spoke with Heather from Hawaiian Health Harm Reduction Center, a new procedure is in place to use smaller vehicles to transport patience to and from their facility.

• Red Hill: The Navy has agreed suspend operation to drain the fuel tanks at Red Hill storage facility.

Questions, comments and concerns followed:

1. Nation Wide Shortage of Covid Tests: Finley commented on the shortage of covid tests. Has the Legislature been involved with discussing this concern.

2. Follow Up on Repeat Offenders: Deutzman commented if there could be a follow up in the Legislature regarding repeat offenders under section 708-803 Hawai'i Revised Statute.
Governor David Ige: Representative Scott Glen reported on the following:

• Record High Case Counts: Omicron covid cases are still maintaining a record high account 5,000 positive cases in one day. Considering opening more locations for testing and vaccinations.

• Electric Busses: Rebates for electric busses requested by Finley in November 2021 for Waikiki streets. Funding of 8 million dollars for electric busses.

Questions, comments, and concerns followed: Covid tests: Finley commented on quantity shortages of covid tests and medication.
Waikiki Improvement Association (WIA): Representative Rick Egged reported:

• People Sleeping in the Beach: Difficultly with people sleeping in front of various hotels on the beach side. It is a privately owned with a public access. Possible beach closure.

• Support for the Ala Wai Bridge: The WIA is in support of the Ala Wai Bridge project.

• Reduction of a lane: Egged and Finley have concerns of proposed a busses lane only on the Ala Wai.

• Bill 41: WIA is in support of the concept of Bill 41 but has concerns of lack of enforcement.

• Waikiki Transportation Management Association (TMA): On-going work with HPD with illegal usage of loading parking areas.

Questions, comments and concerns followed: Improvement: Deutzman commented on improvements in the community regarding homelessness. Still concerns of the "grab and go" crimes.
APPROVAL OF MINUTES

Tuesday, January 11, 2022 Regular Meeting Minutes: Due to the lack of Quorum, the minutes was deferred to next month's meeting.
NEW BOARD BUSINESS

Monkeypod Kitchen Permit Request: Presentation done by Alec Harrison. This is part of a renovation is to replace the Shore Bird restaurant in the Waikiki Outrigger Hotel. Due to lack of quorum, Finley let Alec know the Waikiki neighborhood board accepted the presentation.
REPORTS

Treasurer's Report: Board member Bautista reported the following: December 2021 and January 2022 treasurer's report.

Sub district 1 Report: No representative available to report.

Sub district 2 Report: Ne representative available to report.

Sub district 3 Report: Board member Henski reported the following: Very nice Christmas in Waikiki. Hope 2022 will be a year to communicate face to face.

Chair Report: Chair Finley reported the following:

• Arizona 34 degrees and snowing.

• Help support Chair Waters with the Bills to support the Waikiki community.

• Need to fill the vacant seat in sub district 1 on the neighborhood board.

• Encouraging an in-person meeting next month.
ADJOURNMENT - The meeting adjourned at 8:15 p.m.
Submitted by: Judi-Ann Smith-Kauhane Neighborhood Assistant

Reviewed by: Lindon Valenciano Community Relations Assistant

Final Review: Robert Finley Chair, Louis Erteschik Vice Chair, and Lisa Cabanero Secretary
Featured Product/Service
<!998Template_start>
<!998Template_end>
---
Please send questions about this website to