Community website by MBC/Ernest Abrams. Call 808-739-9797 for advertising/sponsorship.
Waikiki Get Down - Honolulu, Hawaii
News Item

Waikiki Neighborhood Board Meeting September 2017 Minutes
With Permission / Courtesy of
: City and County of Honolulu Neighborhood Commission Office
<!#450IMAGESTART>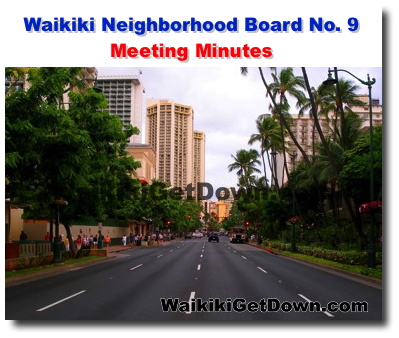 <!#450IMAGEEND>
REGULAR MEETING MINUTESTUESDAY, SEPTEMBER 12, 2017WAIKIKI COMMUNITY CENTER
CALL TO ORDER - Chair Robert Finley called the meeting to order at 7:00 p.m.; quorum was established with 13 members present. Note: This 17-member Board requires nine (9) members to establish quorum and to take official board action.
Board Members Present - Jeff Apaka, Kathryn Henski, Laura McIntyre, Robert Finley, Walt Flood, Nicola Garreaud-Perez, Helen Carroll, Jerome Bautista, Patricia Shields, Adam Ertel, Gordon Fahey, Grant Giventer, and Mark Smith.
Board Members Absent - Louis Erteschik, Jeffrey Merz, and Kenneth Wilder.
Guests - Sergeant Shaun (Honolulu Police Department); Captain Alan Park (Honolulu Fire Department); Dominic Diaz (Board of Water Supply); Dylan Whitsell (Neighborhood Commission Office); Lynn Fallin (Governor David Ige's Representative); Representative Tom Brower; Kurt Tsuneyushi (Councilmember Trevor Ozawa's Office); Raytan Vares (Senator Brickwood Galuteria's Office); Rick Egged (Waikiki Improvement Association); Firmo Dayao (Office of Economic Development); Myles Richie, Brian Bagnall, and Shannon Revera (Greater Waikiki Outdoor Circle's Citizen Forester Program); Marc Alexander (Office of Housing Executive Director); Franklin Chung, Bob Steiger, Devlyn Perugini, Bella Bates, Rob Johnson, Susan Dargusch (Residents); Zoe Tanaka (Videographer); and Jackson Coley (Neighborhood Commission Office).
MOMENT OF SILENCE - Chair Finley announced that Monday, September 11, 2017 marked the 16th anniversary of the attack on the twin towers and the 25th anniversary of Hurricane Iniki. Coupled with the recent hurricanes affecting Texas, Louisiana, and Florida, Chair Finley recommended all attendees consider how they can help fellow Americans in times of need. A moment of silence was observed to honor the departed.
VACANCY SUB DISTRICT 1 - There were no applicants for the vacancy at this time.
CITY MONTHLY REPORTS
Honolulu Fire Department (HFD) - Captain Alan Park reported the following:
• August 2017 Fire Statistics - There was 1 structure fire, 1 wildland/brush fire, 2 nuisance fires, 9 activated alarms, 141 medical emergencies, 5 motor vehicle crashes, and 1 hazardous materials incident.
• Safety Tip: Hiking Safety - The Honolulu Fire Department often responds to hikers who are lost or injured. Use the acronym H.I.K.E. S.A.F.E. to recall hiking safety tips:
o H - Hike with a partner or a group and have a plan. Each member of the group should carry a cell phone, water, whistle, and a flashlight. The group should establish where to meet if members become separated.
o I - Inform someone of your hiking plan. Let them know when you plan to return.
o K - Keep a cell phone, flashlight, and whistle with you on every time, including short day hikes.
o E - Eat well and stay hydrated. Carry plenty of water; two (2) liters of water per person, per day is recommended.
o S - Stay on the trail. Abide by posted signs, and do not hike in closed or dangerous areas.
o A - Ask for help early; do not delay. A minor/moderate health or medical issue can be easily exacerbated by hiking up steep trails. Know your limits and pay attention to how you are feeling.
o F - Familiarize yourself with the area. Use a map and consult government-sponsored websites.
o E - Expect changes in weather and terrain. Bring appropriate footwear and clothing.
Questions, comments, and concerns followed:
1. Recognition - Apaka drew attention to the Los Angeles fires and Marco Polo fire and commended the actions of all firefighters in their efforts to keep communities safe.
2. Upcoming Meeting - Chair Finley mentioned hearing about an upcoming meeting at Mission Memorial on an upcoming Friday about fire prevention for condominium owners. Chair Finley inquired and Captain Park replied that he did not have additional information at this time, however he would look into it more.
Honolulu Police Department (HPD) - Sergeant Shaun reported the following:
• August 2017 Crime Statistics - There were 9 robberies, 10 burglaries, 196 thefts, 29 unauthorized entries into motor vehicles (UEMVs), 53 assaults (aggravated and simple), 2 sex crimes, 154 speeding citations, 588 parking citations, 4 loud muffler citations, and 163 citations. A total of 4,187 calls were placed for service.
Questions, comments, and concerns followed:
1. Suspicious Individuals - Smith reported that his son in Sub-District 2 mentioned suspicious individuals late at night at the bars on Seaside Avenue and Kuhio Avenue on the Mauka side. Smith inquired and Sergeant Shaun responded he was not aware of any new activity in this area, however he would look into it.
2. Anti-Fascist Events ??? Resident Chung reported seeing on social media that local anti-fascist groups were planning large events for the beginning of November, 2017 and inquired if HPD knew what these events were. Sergeant Shaun responded that there are specific units for handling such events and he would pass along the concerns.
3. Noise Complaint - Resident Steiger stated that hotels near the Waikiki Imperial Condominium were making noise late at night hauling barrels.
4. Scooters on Sidewalks - Resident Steiger expressed concerns regarding individuals driving motorized scooters/skateboards on sidewalks at dangerous speeds.
Board of Water Supply (BWS) - Dominic Diaz reported the following:
• Main Breaks - There were no main breaks reported for the month of August, 2017.
• Halawa Xeriscape Garden Workshops - The BWS and Friends of Halawa Xeriscape Garden continue to offer workshops that highlight the concept of xeriscaping - an innovative means to conserving water through efficient landscaping. The new 2017-2018 xeriscape workshop schedule features dozens of new and popular workshops that offer useful tips on how to maintain a beautiful and water-efficient garden. The garden offers workshops on select Wednesdays, Fridays, and Saturdays throughout the year. Upcoming workshops include:
o Saturday, September 23, 2017 - Hypertufa Bowls
o Saturday, September 30, 2017 - How to Create a Xeric Butterfly Garden
o Wednesday, October 18, 2017 - Rain Barrell Catchment
o Saturday, October 28, 2017 - Spiral and Keyhole Gardens
Advanced registration is required. Call 784-5315 or email
workshops@hbws.org
to reserve your space at one of our workshops. Visit our website
www.boardofwatersupply.com
to check out the full list of classes being offered. The Halawa Xeriscape Garden remains open to the public on Wednesdays and Saturdays from 9:00 a.m. to 3:00 p.m. Residents are welcome to drop by to see dozens of attractive and less-thirsty plants on display, as well as pick up a complimentary seed packet.
Questions, comments, and concerns followed: Satellite Waste Treatment Recycling Plants - Resident Chung commented on rumors that plants were going to be built around the island including one across the canal at the Ala Wai Golf Course and requested additional information. Diaz responded that BWS does not handle waste water and this question should be directed to a different department.
RESIDENTS'/COMMUNITY CONCERNS
Neighborhood Commission Office (NCO) - Dylan Whitsell, Public Relations at the NCO, reported the following:
• Postering and Site Visits - The NCO is planning to increase public awareness about the Neighborhood Board System via informational posters. Whitsell reported that Waikiki is a difficult area to poster in as many corporate businesses do not allow endorsement and placement of the posters. Whitsell urged Board members to inform the NCO of available spaces to place posters.
• Online Resolutions - The NCO is working on posting all resolutions passed by Neighborhood Boards on the NCO website to be easily accessible to community members.
• Online Training - The NCO is working on incorporating an online training program for Roberts Rules, the Sunshine Law, and the Neighborhood Plan into the NCO website. This would be a non-mandatory training program for both Board members and residents to become more familiarized with the rules surrounding the Neighborhood Board Meetings.
Questions, comments, and concerns followed:
1. Phone Number - Shields requested and Whitsell supplied his office phone number to receive information about poster locations, the number is 768-3712. Whitsell commented that if any organization wants the NCO to provide a presentation on the Neighborhood Board System they can contact him as well.
2. Social Media - Chair Finley inquired and Whitsell responded that NCO has social media pages on Facebook and Instagram. Chair Finley recommended that NCO post updates to inform the community what events they will be attending and Whitsell responded that this is currently being improved upon.
Correction - Chair Finley informed the public that on Councilmember Ozawa's handout the date for the Informational Briefing and Community Meeting on Fire Safety in Buildings is scheduled for Saturday, September 16, 2017, at the Mission Memorial Auditorium from 10:00 a.m. to 12:00 p.m.
Beech 19A Aircraft Crash - Residents Devlyn Perugini and Bella Bates reported on the Beech 19A aircraft crash on Thursday, July 27, 2017 at Kaena Point that resulted in four (4) deaths. They requested a community push to gather information for an open investigation by retrieving the aircraft's engine. Perugini cited a previous aircraft crash on Friday, June 30, 2017, which occurred at Moanalua Gardens which resulted in critical injuries to passengers. Perugini stated that while the engine is not an environmental hazard, retrieving the engine to study is necessary to prevent similar incidents from occurring in the future and to hold those responsible for this incident accountable.
Questions, comments, and concerns followed:
1. Contact Information - Chair Finley requested and both residents provided their contact information so anyone with pertinent information can contact them. Devlyn Perugini can be reached at
devlyngraceperugini@yahoo.com
and Bella Bates can be reached at
bella97bates@gmail.com.
2. Motive for Investigation - Henski inquired and Perugini responded she and Bates represent themselves. Perugini and Bates reported that the victims in the crash included friends and their goal is recovery of the aircraft engine for inspection of prior damage to provide more information on why the crash occurred and to hold the parties involved responsible.
3. Information on Victims - Henski inquired and Perugini and Bates responded that the victims of the crash were not Hawaii residents and they have been unable to contact the victim's family members for more information.
4. Suggestions - Henski voiced approval of Perugini and Bates' initiative. She then recommended they look into social media outreach and contacting local newspapers to get more information out.
Ala Wai Harbor - Resident Rob Johnson addressed previous discussions regarding Ala Wai Harbor and reported that the harbor currently has four (4) parcels that are being examined for better utilization. Two (2) of these parcels included a fueling station and a maintenance/repair station that were previously torn down by a developer who did not deliver on services paid for. Johnson expressed concerns that a new developer may repeat failure to deliver on services paid for. Johnson stated that property owners across from the Harbor are concerned that development will lead to devaluing their property. Johnson stated that the Harbor and the parcels within it belong to the public and stated that while the government can regulate such items, they should be incapable of giving parcels to developers looking to profit off said parcels. Johnson ended by imploring the public to oppose privatization of the Harbor and cited a study indicating mismanagement of the Harbor by the state.
Questions, comments, and concerns followed:
1. Contacting the State - Chair Finley stated that before any action is taken in regards to the Harbor, the state must be brought into the discussion and public hearing must be held to allow input from residents.
2. Clarification - Henski requested clarification on where money from slip owners was going. Johnson explained that slip owners had been paying money to contractor Honey Bee. Henski stated that previous information indicated that slip money would go to the Department of Land and Natural Resources (DLNR). Johnson stated that Honey Bee has a contract giving them all income from the harbor as an incentive to develop the harbor.
PUBLIC EVENTS
• Saturday, October 7, 2017, 6:30 a.m. to 9:30 a.m. World Peace and Unity for Korea Parade.
• Sunday, October 15, 2017, 7:00 a.m. to 11:00 a.m. Susan B. Komen Run/Walk for the Cure.
• Saturday, October 21, 2017, 11:00 a.m. to 2:00 p.m. Honolulu Pride Parade.
APPLICATIONS FOR LIQUOR LICENSES
• Tim Ho Wan Restaurant, 2233 Kalakaua Avenue, Category 1 Beer and Wine Service.
ELECTED OFFICIALS
Mayor Kirk Caldwell's Representative ??? Firmo Dayao, Office of Economic Development (OED) International Affairs Specialist reported the following:
• Bus Stop - A resident raised concerns about homeless people sleeping at the bus stops in Waikiki along Ala Moana Boulevard near Hobron Lane. HPD responded that officers assigned to the Waikiki district made checks but did not observe any violations, they will continue to monitor the area and take appropriate enforcement action when violations of the law are observed. Department of Transportation Services (DTS) understands the concerns regarding homeless people sleeping at bus stops and works with Mayor Caldwell's Office of Housing and other community-based entities to connect homeless persons with appropriate support services. Residents who see homeless people in Oahu in need of assistance are encouraged to call the Homeless Help Line at 586-0193 or email
gov.homelessness@hawaii.gov.
Please be aware that although shelter and services are available, homeless persons cannot be forced to accept them.
• Light - Flood raised concerns about construction at the Ritz Carleton hotel using large high-intensity fluorescent lights at night that disturbs the neighbors. The Department of Planning and Permitting (DPP), Building Division, conducted an investigation that revealed no "high-intensity fluorescent light fixtures," and no violations at the time of the inspection.
• Trashcans - There were complaints that trashcans in Waikiki had rubbish at the bottom of the cans that was not getting cleaned out. The Department of Facility Maintenance (DFM) reported that they are working with the Waikiki Business Improvement District (WBID) to minimize trash falling beyond the litter can and getting trapped under the litter receptacle liner. They are testing placing a plate beneath the liner, and if successful will install similar plates in other City litter receptacles. The Department of Parks and Recreation (DPR) reported they will check the bottoms of the DPR trash cans in the Waikiki area and will clean those with excess trash underneath the trash liners.
Governor David Ige's Representative - Deputy Director Lynn Fallin of the State Department of Health (DOH) Behavior Health Services Administration circulated a newsletter and reported the following:
• Governor's Newsletter - Deputy Director Fallin responded to an email received from McIntyre, stating that the Governor's monthly newsletter is made available by the Neighborhood Commission Office (NCO) and are available online.
• Siren Testing - Starting in November, 2017 the State will begin testing warning sirens for the event of a nuclear attack. The Hawaii Emergency Management Agency has issued guidelines at
www.dod.hawaii.gov/hiema/
outlining what to do in the event of a nuclear attack.
• Rat Lungworm Disease - To prevent the spread of rat lungworm disease, the state has launched an initiative with $1 million in funds from the legislature to increase public education and improve control and prevention of the disease.
• Food Safety - The Department of Health (DOH) launched an online portal in 2016 at
http://hi.healthinspections.us/hawaii/
where the public can read inspection reports for Hawaii restaurants. Currently, the site only covers Oahu but is aiming to include neighbor island restaurants by the end of the year.
• Worker's Compensation Claims - The Department of Labor is planning to post workers compensation claims online in order to respond to claims faster.
• Opioid Initiative - Governor Ige launched a new Opioid Abuse Prevention Initiative to better monitor and enforce the legal use of opioids.
• Bond Rating - Hawaii recently received the second highest bond rating available in the country.
Questions, comments, and concerns followed:
1. Medical Costs for Homeless - Smith commented on a STAR Advertiser opinion piece regarding the medical costs of homeless patients on Medicaid. Smith voiced concern regarding the costs associated with homeless using emergency services and how it affects taxpayers. Deputy Director Fallin responded that the state takes providing services to the homeless very seriously. Deputy Director Fallin stated that there are homeless outreach programs in place, however it was recently reported that over 40 percent of the homeless approached declined services. Deputy Director Fallin stated that one of the biggest challenges is to encourage homeless to accept alternative, more effective services than going straight to emergency services.
2. Middle Income Housing - Shields inquired and Deputy Director Fallin responded that middle income is defined as roughly $59 thousand per year, with low income being roughly $20 thousand dollars per year. Deputy Director Fallin stated that she would follow up to obtain more concrete numbers.
At 7:05 p.m. Board Member Roberta Apaka departed; 12 Board Members were present.
3. Corrections and Concerns - Flood made a correction to Smith's previous comments, stating the STAR Advertiser's opinion piece was concerning a homeless QUEST recipient and not a Medicaid recipient. Flood stated that the concern with homeless people's medical bills is when they utilize expensive emergency services for non-emergency problems while cheaper alternatives available. Fallin clarified that Medicaid is a national program while the state authority administering Medicaid in Hawaii is Med-QUEST which is a combination of state and federal funding.
4. Harbor Funds - Resident Johnson cited the newsletter Deputy Director Fallin circulated which mentioned the Highways and Harbors divisions, the University of Hawaii and Department of Hawaiian Home Lands (DHHL) reported debt service savings totaling $78.2 million. Johnson then inquired how much of this money was attributed to harbors and Deputy Director Fallin responded that she was unsure but would look into it.
5. Influenza Vaccination Funds - Chair Finley mentioned an inquiry from Erteschik, who was absent, regarding funds for influenza vaccinations in public schools. Deputy Director Fallin responded that over the years there has been a decrease in funding for influenza vaccinations from the federal government, to counter this there have been efforts to increase accessibility to vaccinations through private insurers and pharmacies.
Representative Tom Brower - Representative Brower circulated a newsletter and reported the following:
• Homeless Hotlines - When requesting help for homeless persons in your neighborhood you can email
complaints@honolulu.gov
or call 768-4381 for persons on sidewalks and email
gov.homelessness@hawaii.gov
or call 586-0193 for persons camping at the Ala Wai Promenade.
• Special Session for Rail - During the recent special session the Legislature settled on a funding mechanism for the City's rail project. Senate Bill 4 (SB4) extends the General Excise Tax (GET) by three (3) years and raises the Transient Accommodation Tax (TAT) by one (1) percent (to 10.25%) for 13 years.
Questions, comments and concerns followed:
1. Representative's Stance on SB4 - Flood inquired and Representative Brower explained that he opposed SB4 during the special session believing the rail project is already too far over budget.
2. Waikiki Expansion - Resident Chung expressed concerns about ongoing development in Waikiki that could lead to expansion across the Ala Wai canal, citing the development of the pedestrian bridge between Waikiki and University Avenue and developments in Kapahulu. Representative Brower responded that he is in support of the bridge being built at this time, however he is aware of the concerns raised by residents.
3. Golf Course - Resident Franklin Chung suggested working with the federal government to acquire the Navy Marine Golf Course for civilian use stating that it is currently too inaccessible for residents. Representative Brower responded that there were talks of building a stadium at the Ala Wai Golf Course, however he is doubtful that the project will go through.
Councilmember Trevor Ozawa - Kurt Tsuneyushi, Director of Community Relations, circulated a newsletter and reported the following:
• Motorized Equipment on Sidewalks - Responding to a prior report of motorized vehicles and equipment being operated on public sidewalks, Tsuneyoshi stated that Councilmember Ozawa is currently looking into means to enforce such equipment being operated on sidewalks.
• Sidewalk Bench Removal - Councilmember Ozawa was looking into removing multiple benches along sidewalks to provide better pedestrian access and deter homeless individuals from staging camps in Waikiki. Chair Finley suggested Councilmember Ozawa's office get in contact with Board member Fahey.
Questions, comments, and concerns followed:
1. Driving Range - Resident Franklin Chung stated that Enterprise Services held a hearing in August, 2017 regarding the Ala Wai Driving Range which was then sent to Councilmember Ozawa's office and requested a status update. Tsuneyushi responded that Councilmember Ozawa supports the driving range, however he does not have a comprehensive statement to issue at this time.
2. Wall Replacement - Flood reported on a wall that required replacing at the California Pizza Kitchen at 2284 Kalakaua Avenue.
Senator Brickwood Galuteria - Raytan Vares circulated a newsletter and reported the following:
• Special Session - Vares provided a brief summary of SB4 highlighting the following:
o Extension of GET surcharge by 0.5% for three (3) years from 2027 to 2030
o Increased TAT by 1% from 9.25% to 10.25%
o Decrease in state's shares of GET revenues from 10% to 1% for administrative purposes
o Requirement for state auditor to conduct comprehensive audit of Honolulu Authority for Rapid Transportation (HART)
o Requirement for state auditor to annually audit HART
o Increase in allocation of TAT revenues to the counties from $93 million to $103 million
o The Senate President and House Speaker will each appoint two (2) non-voting ex-officio members to the HART board
• New Senate Members - Vares noted that the newsletter contained a full list of the new members to state boards and commissions that were approved by the Senate.
Questions, comments, and concerns that followed: Passing of Prior Comments - Resident Chung requested and Vares agreed to pass along all prior questions, comments, and concerns made by Chung to Senator Galuteria.
Waikiki Improvement Association - Rick Egged reported the following:
• Aloha Festival - The Waikiki Aloha Festival will be taking place with various events throughout the month of September, 2017. Egged brought fundraising ribbons for sale to support the Aloha Festival's events and announced the following events
o Saturday, September 23, 2017 - Waikiki Hoolaulea along Kalakaua Avenue from 7:00 p.m. to 10:00 p.m.
o Saturday, September 30, 2017 - Floral Parade from Ala Moana Park to Kapiolani Park from 9:00 a.m. to 12:00 p.m.
• Bill 64 Update - Bill 64, proposing the creation of the Waikiki Transportation Management Association Special Improvement District, Passed second reading, however it will not will be discussed again until October, 2017 as Councilmember Ozawa is out of town until then.
• Rolling Kiosk - The Waikiki Improvement Association has been working with Councilmember Ozawa to develop legislation to address the complaints regarding mobile kiosks on public sidewalks.
Questions, comments, and concerns followed: Support for Aloha Festival - Flood and Chair Ozawa expressed their appreciation and support of the Aloha Festival and similar events.
APPROVAL OF THE AUGUST 8, 2017 REGULAR MEETING MINUTES
The August 8, 2017 regular meeting minutes were APPROVED BY UNANIMOUS CONSENT as amended, 12-0-0; (AYE: Bautista, Carroll, Ertel, Fahey, Finley, Flood, Giventer, Henski, McIntyre, Perez-Garreaud, Shields, and Smith; NAY: None; ABSTAIN: None). Amendment: On page three (3) of the August, 2017 minutes there was no mention of the general manager of the Ilikai Hotel.
NEW BOARD BUSINESS
Outdoor Circle Tree Plan Update - Myles Richie, Brian Bagnall, and Shannon Revera provided a power point presentation on the Greater Waikiki Outdoor Circle's Citizen Forester Program highlighting:
• Benefits - Richie listed benefits for placing urban trees which included:
o Improving physical and mental health
o Improving air quality
o Reducing carbon dioxide in the atmosphere
o Reducing soil erosion
o Filtering runoff and reducing flooding
o Increasing urban biodiversity
o Increasing property values by 10-20%
o Reducing temperature and the Urban Heat Island Effect
• Tree Mapping - Richie described the benefits of mapping tree placements to provide a record for maintenance and benefit assessment purposes.
• Benefits in Kailua - Revera Stated that efforts in Kailua have led to monetary benefits of $145,519.
• Future Updates - Richie expressed a desire to return to future Board Meetings to supply updates.
• Recruitment - Applications and additional information for the Citizen Forester Program can be found online at
www.SmartTreesPacific.org/CitizenForester
.
Questions, comments, and concerns followed:
1. Approval and Encouragement - Flood and Shields expressed their approval of the project.
2. Landowner Permission - Shields inquired about obtaining permission from landowners to place trees on property. Richie clarified that the program is currently only working on locating areas for future tree placement.
3. Tree Costs - Henski inquired and Richie responded that the trees are paid for by the City and County. Revera stated that federal funds are also obtained through the United States Forest Service's Community Forest Program.
4. Maintenance Contractors - Chair Finley inquired if the contractors responsible for maintaining all tress on city property are participating in the Citizen Forester Program. Richie stated that there are talks with the contractors to provide information on tree placement for more efficient work, however this is an ongoing discussion. Bagnall stated that a large part of the program is aimed at taking a census of all street trees in Waikiki which can then be provided to the city for their benefit.
5. Transition Point - Estel inquired at what point the program will move from gathering data and taking censuses to planting new trees. Richie responded that while a larger area is being surveyed, newly identified areas for tree placement can be provided to the City and County who can then choose to provide work on the areas.
6. Kailua - Vares expressed support for the program and inquired about the program in Kailua and how much of Kailua has been mapped. Richie responded that Kailua has been worked on for slightly over a year and everything in the initial area, which was all street and park trees Makai of the Kailua canals, has been mapped.
Honolulu Homeless Director - Office of Housing Executive Director Marc Alexander circulated two (2) handouts and provided an update on the homeless situation in Waikiki, highlighting the following:
• Research Statement - Executive Director Alexander provided a research statement from Professor Jack Barile at the University of Hawaii stating that "the greatest predictor of a community's homelessness rate, is its unaffordable housing rate."
• Unaffordable Housing - Executive Director Alexander described how rises in unaffordable housing has a direct correlation to rising homeless rates.
• Success Stories - Executive Director Alexander provided some recent stories of success in aiding homeless individuals in locating housing through a city housing first voucher.
• Assessment - Executive Director Alexander described how homeless individuals require assessment and screening by psychiatrists and other professionals to determine what level of aid they need and how best to provide this aid to them.
• Housing First Program - Executive Director Alexander described the Housing First Program stating it is designed to benefit the chronically homeless and listed the following statistics for Housing First (HF) clients:
o HF retained an average of 90% of clients from 2014 to 2016
o HF clients reported a 38% improvement in hope for their futures
o HF clients reported a 96% increase in connections to a community group
o HF clients reported a 21% improvement in general health
o Clients using HF for two (2) years experienced a 61% decrease in arrests
o Clients using HF for one (1) year experienced a 64% decrease in emergency room utilization and a 74% decrease in hospital admissions
• Safe Zones - Executive Director Alexander criticized the development of safe zones stating that they were not cost efficient and did not provide adequate aid to the chronically homeless.
Questions, comments, and concerns followed:
1. Empty Housing in Waikiki - Shields stated that there are vacant rental units in Waikiki that require potential tenants to earn three (3) times the cost of rent to move in. She inquired if there is a way to force rental agencies to alter this policy to make their units more accessible. Executive Director Alexander stated that in some instances these units are used as illegal vacation rental units and this problem is already being studied and addressed by the Mayor.
2. Behavior - Shields stated that providing housing does not automatically fix homeless people's behavior and often these individuals are not capable of remaining in housing for an extended period of time. Executive Director Alexander clarified that the Housing First Program believes in providing continuous case management to homeless individuals in addition to providing housing.
3. Overusing Emergency Services - Smith mentioned the article previously addressed regarding homeless individuals over utilizing emergency services and how this is a detriment to available funds. Executive Director Alexander stated there have been ongoing efforts to provide outreach to homeless individuals to connect them to alternative options to emergency services.
4. Adolescent Homeless Gangs - Smith described recent observations of groups of adolescent males who have chosen to live an alternative lifestyle that involves being homeless, and inquired if these individuals are considered homeless persons and if they are targeted as part of the Housing First Program. Executive Director Alexander responded that homeless fell into four (4) types of populations, singles, families, victims of domestic violence, and youth which is defined up to age 24. Executive Director Alexander stated that there is the least available data and resources for the youth population which makes it very challenging to provide aid to them.
5. Available Housing - Resident Chung stated that he believes a general increase in housing supply all throughout the island is a necessary step to create the resources available to help homeless people and inquired why there are housing caps in various districts. Executive Director Alexander agreed that building housing in one area is not beneficial, however stated that the amount of housing units necessary to address housing requirements for homeless is considerably lower than many people believe.
REPORTS
Treasurer???s Report - There was no report.
Subdistrict 1 - There was no report.
Subdistrict 2 - There was no report.
Subdistrict 3 - Smith reported on a previous issue where there were complaints from a local bicycle rental business about a Biki Bike Share location placed close to his business; the Biki location has been moved, however a different bicycle rental service has launched a complaint about a different Biki location. Egged stated that he would look more into the situation and contact Biki.
Chair Report - Chair Finley reported that he has reserved time for the November, 2017 meeting for the developer of what is currently the Food Pantry, however this is dependent on an important Traffic Study which may not be completed until December. If the Traffic Study is not completed in time the presentation will be moved back to January, 2018. Chair Finley also reported that he and Merz met with the developers and while the plans discussed were not final they did identify areas of concern that should be of interest to the Board.
ANNOUNCEMENTS
• The next regular Waikiki Neighborhood Board No. 9 meeting is scheduled for Tuesday, October 10, 2017 at 7:00 p.m.
• View this meeting on Olelo Channel 49 at 9:00 p.m. on the 4th Tuesday each month, and at 6:00 a.m. on the 1st and 3rd Sunday of each month. View online at:
http://olelo.granicus.com/ViewPublisher.php?view_id=30
ADJOURNMENT: The meeting adjourned at 9:34 p.m.
Submitted by: Jackson Coley, Neighborhood Assistant I
Reviewed by: Dylan Whitsell, Public Relations Specialist
Final Review: Chair Finley
Featured Product/Service
<!998Template_start>
<!998Template_end>
---
Please send questions about this website to