Community website by MBC/Ernest Abrams. Call 808-739-9797 for advertising/sponsorship.
Waikiki Get Down - Honolulu, Hawaii
News Item

Waikiki Neighborhood Board No. 9 Meeting Minutes For 6/13/2017 Posted
With Permission / Courtesy of
: City and County of Honolulu Neighborhood Commission Office
<!#450IMAGESTART>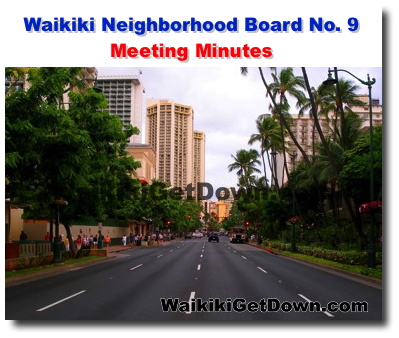 <!#450IMAGEEND>
<!#43START>
REGULAR MEETING MINUTES
TUESDAY, JUNE 13, 2017
WAIKIKI COMMUNITY CENTER
CALL TO ORDER -- Chair Robert Finley called the meeting to order at 7:00 p.m.; quorum was established with 11 members present. Note: This 17-member Board requires nine (9) members to establish quorum and to take official board action.
Board Members Present -- Jo-Ann Adams, Jeff Apaka, Helen Carroll, Gordon Fahey, Robert Finley, Walt Flood, Jeffrey Merz, Patricia Shields, John Nigro, and Mark Smith.
Board Members Absent -- Jim Poole, Louis Erteschik, Jermel Anderson, David Benson, Paul Ciliano, Jeff Geck, and Mary Simpson.
Guests -- Lieutenant So (Honolulu Police Department); Dominic Dias (Board of Water Supply); Lynn Fallin (Governor David Ige's Representative); Raytan Vares (Senator Brickwood Galuteria's Office); Representative Tom Brower; Councilmember Trevor Ozawa and Kurt Tsuneyoshi; Rick Egged (Waikiki Improvement Association); Lori McCarney (Bike Share Hawaii); Laura McIntyre, Natalie Iwasa, Jackson Dias, Angelina Dias, Kathryn Hemski, Shem Lawlor, Franklin Chung, Lisa Bishop, Renate Ryan, Judith Wells, Asia Yeary, and Beth Schippers; Zoe Tanaka (Videographer); and Sultan White (Neighborhood Commission Office).
WELCOME -- Chair Finley welcomed the community.
CITY MONTHLY REPORTS
Honolulu Fire Department (HFD) -- No report was given.
Honolulu Police Department (HPD) -- Lieutenant So reported the following:
• May 2017 Crime Statistics -- There were 2 robberies, 11 burglaries, 213 thefts, 26 unauthorized entries into motor vehicles (UEMVs), 39 assaults (aggravated and simple), 1 sex crime, 46 speeding citations, 655 parking citations, 4 loud muffler citations, and 104 citations and 2 arrests for park closures. A total of 4,085 calls were placed for service.
Questions, comments, and concerns that followed:
1. Day Camping: Smith raised concerns about families day camping on the landscaping on Kapahulu Groin. Lieutenant So replied that if the landscape is part of the park, it is okay. There is no violation for camping during the day with your family. Unless it is damaging to the landscape, it is okay.
2. Citations: Flood gave an anecdote about spending his night repeatedly calling the police on one (1) homeless man for camping in different areas. The police would move him, but the homeless man would set up somewhere else. The homeless man was never cited. Lieutenant Flood said that if a cop does not issue a citation when he or she should have, you can call the supervisor.
3. Pets: Flood asked if homeless people were allowed to have pet dogs. He said there was an incident in which a homeless person did not pick up after his dog. Lieutenant Flood said that he could not take someone's dog away.
4. Sit-Lie: Merz said that the sit-lie ban does not seem to be working. He raised concerns that the homeless issue seems like it is the worst it has been in three (3) years. They are at every other bus stop. Chair Finley recommended that the Police Chief pass this issue on to Mayor Caldwell. Lieutenant So said that police does issue citations for sit-lie, but they give them an opportunity to move first.
5. Officer Rotations: Adams asked how there are only 10 officers in Waikiki when 150 new ones were just assigned to the area. Lieutenant So responded that the officers rotate.
6. Proactive Enforcement: Adams asked if the homeless strategy was to respond to citizen calls or if they were proactively addressing the issue. Lieutenant So answered that the Community Policing Team works seven (7) days a week, proactively addressing homelessness. Adams said HPD needs a plan of enforcement that makes sense.
7. Warning vs. Citation: Fahey asked why homeless people get a warning first when the sit-lie ordinance is enforced, but tourists on the beach get a citation by the roaming ATVs. Lieutenant So responded that the park closure rules are different than the sit-lie ordinance. Lieutenant So said they are not allowed to order who to cite and who not to cite, but he assured the public that it is up to the officers' discretion and they typically do not cite tourists.
8. Rights: A resident suggested that HPD has training on how to treat tourists. She asked why they cannot keep the homeless people out of Waikiki. Lieutenant So responded that homeless people have rights. If they are not breaking any laws, HPD cannot do anything to them. The resident said she thinks homeless people have more rights than she does.
9. Report: Chair Finley encouraged the community to report crimes as they see them, or to report to HPD superiors if police enforcement is inadequate.
Board of Water Supply (BWS) -- Dominic Dias reported the following:
• Main Breaks: There were no main breaks in May.
• Annual Water Quality Reports: BWS works hard to ensure that the water served to their customers is safe to drink. Each year, the BWS conducts thousands of tests on the water sources and distribution system to ensure that municipal water meets or exceeds all Federal and State safe drinking water standards. The results of those tests are shared with customers in our annual water quality report, which will be mailed to all customers by July 1st. Digital copies of water quality reports and additional water quality information is available at www.boardofwatersupply.com. Direct any questions to BWS Water Quality Division at 748-5080.
MAHALO TO BOARD MEMBERS
Chair Finley thanked Jo-Ann Adams, Mary Simpson, and John Nigro for their service to the Waikiki Neighborhood Board No. 9 and presented them each with a lei. Chair Finley announced the new Board members Adam Ertel, Laura McIntyre, Kenny Wilder, Grant Giventer, Kathryn Henski, and Nicole Perez-Garraud.
NEW BOARD BUSINESS
Waikiki Transportation Management Association (WTMA) -- Rick Egged asked for support of the creation of WTMA and reported the following:
• Problem and Situation: Due to more visitors, more employees and more residents in Waikiki, there are more passenger pick-ups & drop offs, more freight deliveries, more rubbish pick up, more vehicles circling, and, in sum, more traffic.
• Transportation Management Association (TMA): A TMA is a formal organization dedicated to solving local transportation issues. TMAs identify and implement strategies to facilitate the movement of people and goods within a specified area. Each TMA has a unique set of responsibilities depending upon the identified transportation issues which include those related to parking, bicycling, pedestrian, loading zone, transit, commuter, air, water, and sidewalk systems. TMAs are often legally constituted and frequently led by the private sector in partnership with the public sector to solve transportation problems and manage continuing programs.
• Purpose of WTMA: The purpose of WTMA is to manage loading and unloading of people and goods, manage on-street parking, create Residential Parking Zones (RPZs give residents significant possession of on-street stalls), and create more parking in Waikiki.
• Bill 12: The City passed Bill 12 which increased parking rates to $3.00 per hour and expanded Waikiki parking limits to 6:00 a.m. to 10:00 p.m.
• Bill 63: WTMA proposed Bill 63 which amends the existing Special Improvement District (SID) City Revised Ordinances of Honolulu (ROH) legislation.
• Bill 64: WTMA proposed Bill 64 which established the WTMA SID.
Questions, comments, and concerns that followed:
1. RPZ: Smith noted that your car would need a sticker to park in your own neighborhood. He asked how it would work and if there would be a charge for the sticker. Egged answered that the WTMA has not been established yet so they are still working things out. He can give a definitive answer once it is created.
2. Technology: Flood noted that there are fewer people renting cars due to Uber and other alternatives. Egged answered that there will be lots of new technology that reduces traffic, such as driverless taxis.
3. Demand Based Pricing: Merz gave praise for demand based pricing. Egged said he hopes that WTMA will create an app that shows where empty parking stalls are.
4. Fees: Merz asked if the fees paid would stay in Waikiki. Egged answered that the plans is for all the funds to stay in Waikiki, but they still need to negotiate with the City. There will be permits for companies to transport in Waikiki. They will lose their permits if they break the rules.
5. Expansion: Adams asked if they planned to expand to service bicycles. Egged answered that they do plan to expand their services. A resident asked if WTMA plans to expand to the other side of the Ala Wai Canal. Egged answered that Waikiki is bordered by the canal, so they cannot do anything on the other side.
6. Support: A member of the Hawaii Bicycling League showed her support of WTMA. She said there would be more efficiency and the roads would be less dangerous.
7. Standards: A resident asked and Egged answered that there would be permit standards.
8. Conflict of Interest: A resident raised concerns about having the Mayor on the Board of WTMA. Egged answered that it would likely be a designee, not Mayor Caldwell himself.
Flood motioned and Apaka seconded that the Waikiki Neighborhood Board No. 9 support the formation of the Waikiki Transportation Management Association.
Discussion Followed: Permits: Shields asked and Egged answered that the Bus was exempt from permitting.
The motion was APPROVED BY UNANIMOUS CONSENT, 10-0-0; (AYE: Adams, Apaka, Carroll, Fahey, Finley, Flood, Merz, Shields, Nigro, and Smith; NAY: None; ABSTAIN: None).
Member Apaka left at 8:10 p.m. Nine (9) members present.
RESIDENTS/COMMUNITY CONCERNS
Bikeshare Hawaii -- Biki: Lori McCarney noted that Honolulu's Bikeshare program has been named Biki and is specially designed for Hawaii. The program was funded through State, City, and private funds. The operations and maintenance of the project will be funded through the fees for renting the bicycles. There will initially be 100 stations from Diamond Head to Chinatown with over 1,000 bikes placed throughout the stations. The project will be rolled out in June 2017 and Bikeshare Hawaii will be doing outreach through the Hawaii Bicycling League. This program will serve as a low cost mobility option for Oahu. For more information visit www.bikesharehawaii.org/.
Seaside Avenue: A resident asked for more policing around Seaside Avenue near the drinking establishments. He said there has been an increase in loud motorcycles late at night. He raised concerns about HPD having no way to monitor noise levels.
Walking Bridge: A resident asked for an update about a walking bridge over the Ala Wai Canal. Chair Finley mentioned that there is funding for the design in the City budget this year.
Multilingual Bikeshare: A resident raised concerns that Biki and the rules of the road should be multilingual for international tourists.
Homelessness: A resident raised concerns about the increase in homelessness being dangerous. She suggested that some grass areas be dedicated as "viewing areas" or "grass revitalization areas" to keep people off the grass. She also wants the bus stop benches changed.
PUBLIC EVENTS
• Saturday, June 24, 2017, 9:00 a.m. to 12:00p.m. Neighborhood Board Installation -- City Hall
• Saturday, July 8, 2017, 6:00 p.m. to 11p.m., Family Day Parade (God's Ohana Day Parade)
• Sunday, July 23, 2017, 5:30 a.m. to 11:00 a.m., Cliff Rigsbee Tinman (Kapiolani Park area)
• Sunday, August 27, 2017, 5:30 a.m. to 1:30 p.m., Dick Evans Memorial Bike Ride (many areas)
APPLICATIONS FOR LIQUOR LICENSES
• Thursday, June 29, 2017, Appetito Craft Pizza and Wine Bar, 150 Kaiulani Ave, Cat 2
• Big Blue Group -- Aqua Ohia Waikiki Hotel, Hotel General License
ELECTED OFFICIALS
Mayor Kirk Caldwell's Representative -- Deputy Director Mark Yonamine was not present. Chair Finley read the "MEMO FOR THE RECORD," regarding the concerns that were addressed at the Board's last meeting:
• Segways: A resident raised concerns about Segways in Kapiolani Park. She said that they will cause damage to the facilities of the park.
o The Department of Parks and Recreation: DPR staff has no reports of damage to sidewalk areas in and around Kapiolani Regional Park by Segways. We will continue to watch for damages.
• Private Roads: A resident said that there are people claiming private ownership of the shoulders on Lemon Road and Cartwright Road. There are vendors on the shoulders that usually sell at nights or on weekends to avoid patrols.
o The Honolulu Police Department: The shoulders of Lemon and Cartwright Roads are privately owned. Officers assigned to the Waikiki district have made checks and vendors are there with the owner's permission.
• Sidewalks: Carroll raised concerns about Segways, skateboards, and bikes on the sidewalks in Waikiki making it unsafe for pedestrians.
o The Department of Transportation Services: Per Section 15-4.6c of the Revised Ordinances of Honolulu, bicycles and skateboards are prohibited on all sidewalks in Waikiki, and there are many signs installed throughout Waikiki to indicate this prohibition. Moreover, in an effort to keep sign clutter at a minimum, the City does not wish to add any more of these signs. If people are violating this ordinance, HPD should be called for enforcement. The City produces and distributes the brochure, "Bicycle Regulations and Illustrated Safety Tips," regarding this law and many more regulations and safety tips that you may find helpful at all Satellite City Halls and local bicycle shops. Per Section 291C-134.5 of the Hawaii Revised Statutes, Segways, officialy known as Electric Personal Assistive Mobility Devices, are legally allowed on all sidewalks, including Waikiki. If people are riding Segways unsafely, they may contact HPD or the Segway tour company to complain.
• Camping: A resident raised concerns about the homeless camping at the bus station on the corner of Paoakalani Avenue and Kuhio Avenue. They have furniture, clothes on the trees and are making a mess.
o The Honolulu Police Department: The female seen at the bus stop on Paoakalani and Kuhio Avenues has been the subject of numerous citations and warnings. The area has been cleared of her belongings just as many times. As of Thursday, May 11, 2017, the bus stop was clear of her personal property. The officers assigned to the Waikiki district are doing what they can within the law to address the problem and will continue to monitor the female at the bus stop.
o The Department of Facility Maintenance: Road Division/SPO Team with the assistance from HPD regularly performs enforcement in the Waikiki area on a weekly basis. The SPO/SNO Team removes furniture and the occupants are asked to remove their personal items and leave the area. The SPO/SNO Team will continue monitoring the area and conduct enforcements at the Paoakalani Avenue and Kuhio Avenue bus stop and its surrounding areas.
• Grass: The grass near Jefferson Elementary School on Ainakea Way and Pualani Way is too long.
o The Department of Facility Maintenance: Investigation of the overgrown grass at Ainakea and Pualani Way revealed the area to be not under City maintenance responsibility. The grass appears to be maintained by the State.
• Sit-Lie: A resident asked why HPD does not enforce the sit-lie ordinance anymore. She said laws should be enforced.
o The Honolulu Police Department: Officers assigned to the Waikiki district enforce the sit-lie ordinance on a daily basis. In 2016, they have given 891 warnings, issued 202 citations, and made 4 arrests for this violation. In addition, from Sunday, January 1, 2017 to Saturday, May 6, 2017, the officers gave 161 warnings and issued 126 citations. They will continue to monitor the areas and take appropriate enforcement action when violations of the law are observed.
Governor David Ige's Representative -- Deputy Director Lynn Fallin of the State Department of Health (DOH) Behavior Health Services Administration reported the following:
• Public Input: The public has the opportunity to give input for legislation at www.governor.hawaii.gov. All comments are read. Governor Ige has until Thursday, July 13, 2017 to sign legislation or until they become law without his signature.
• Food Vendors: She reported that the food vendors on Lemon and Cartwright Roads are there with approval from the property owner and they have valid temporary food establishment forms. When reporting vendors, it is important to give the times they are out due to costs.
Questions, comments, and concerns that followed:
1. Temporary Food License: A resident asked how long the temporary food establishment form would last. Deputy Fallin will follow up.
2. Chop Shop: A resident reported a moped chop shop near Waikiki Yacht Club.
Senator Brickwood Galuteria -- Raytan Vares circulated a newsletter. He reported that he is currently unsure if the legislature will convene on a special session.
Representative Tom Brower -- Representative Brower stated that he appreciated people speaking up about concerns from the community. He mentioned that there was a reluctance to enforce the law on illegal camping, so people will continue to camp. He stated that top administration believes that the City cannot arrest its way out of homelessness.
Questions, comments, and concerns followed:
1. More Police: A resident asked for more police in Waikiki.
2. SWAT: Smith mentioned that when he was in Portland, there were SWAT teams addressing homeless issues. He suggested Hawaii try the same.
3. Resolution: Representative Brower said that the media is beginning to take homelessness more seriously. He encouraged the Board to take action on homelessness via a resolution.
4. Las Vegas: Flood mentioned that he did not see homeless people when he travelled to Las Vegas. He suggested that Hawaii try what they are doing. Representative Brower said that we live in a liberal community and top management does not want to enforce the laws.
5. Clean Up: Shields suggested that homeless people clean up after themselves after they are moved by the police.
Councilmember Trevor Ozawa -- Councilmember Ozawa announced that the budget just passed. He proposed $41 million in budget cuts, many of which did not make it. He highlighted Bill 46 which makes golfing free for minors in order to provide equal access to the sport.
Questions, comments, and concerns followed:
1. Fireworks: Flood raised concerns about the State asking for a fee to use the space for the firework show in Waikiki. It is a big draw for visitors.
2. Day Camping: Smith reiterated concerns about families day camping in Kapahulu Groin. Councilmember Ozawa suggested we create an area for park rangers to enforce the laws. They could look out for people's safety and health.
3. Cellphone Law: A resident raised concerns against the law about not being able to use a handheld device while crossing the street. He believed it to be unnecessary and the fine too steep. Councilmember Ozawa said that he voted No and that it did not get passed. He said the law was too vague and that those types of laws are a stepping stone to other laws which could violate free speech.
4. Rail Vote: A resident asked why he voted against the Rail. Councilmember Ozawa stated that 80% - 90% of the $350 million from bonds would go to existing contracts only to Middle Street. He also raised concerns about how they bonds would be paid back. It might have had to been a raise in real property tax or a cut to essential services. He stressed that he cannot always vote based on what looks good on a headline.
Waikiki Improvement Association -- Rick Egged reported that the Board of Land and Natural Resources voted unanimously to support the Royal Hawaiian Groin Replacement.
APPROVAL OF THE APRIL 9, 2017 REGULAR MEETING MINUTES: Without any objections, the May 9, 2017 regular meeting minutes were APPROVED BY UNANIMOUS CONSENT, 9-0-0; (AYE: Adams, Carroll, Fahey, Finley, Flood, Merz, Shields, Nigro, and Smith; NAY: None; ABSTAIN: None).
REPORTS
Treasurer's Report -- Shields reported $141.53 remaining. The report was filed.
Subdistrict 1 - Merz reported that there is a notice of a draft Environmental Impact Statement (EIS) for the dredging of the Ala Wai Canal. The EIS can be reviewed online, and comments are due Friday, July 7, 2017. There is a final EIS of the HECO line under the Ala Wai Canal.
Subdistrict 2 -- Flood reported that he got an anonymous tip that construction was shut down for the Ritz-Carlton Tower 2. There is more graffiti in Waikiki.
Subdistrict 3 -- Smith reiterated his concerns of day camping on Kapahulu Groin.
Chair Report -- Chair Finley stated that it was an exciting and productive two (2)-year term. Mahalo to all Board members who have dedicated time and effort to making Waikiki a better place. He is sad to see six (6) members leave and excited to meet and work with newly elected members who will have to give the same effort the past members have given over the years to the residents.
ANNOUNCEMENTS
• The next regular Waikiki Neighborhood Board No. 9 meeting is scheduled for Tuesday, July 11, 2017 at 7:00 p.m.
• View this meeting on Olelo Channel 49 at 9:00 p.m. on the 4th Tuesday each month, and at 6:00 a.m. on the 1st and 3rd Sunday of each month. View online at: http://olelo.granicus.com/ViewPublisher.php?view_id=30
ADJOURNMENT: The meeting adjourned at 9:13 p.m.
Submitted by: Sultan White, Neighborhood Assistant I
Reviewed by: Dylan Whitsell, Neighborhood Assistant I
<!#43END>
Featured Product/Service
<!998Template_start>
<!998Template_end>
---
Please send questions about this website to