Community website by MBC/Ernest Abrams. Call 808-739-9797 for advertising/sponsorship.
Waikiki Grand Apartments Coupon and Discounts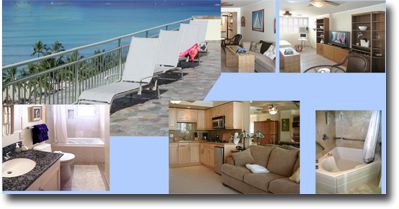 Two special units on the top floor of the Waikiki Grand Hotel
Back to the top
Waikiki Grand SunDeck Suite 1005
Visit Website:
http://www.waikikigrand1005.com/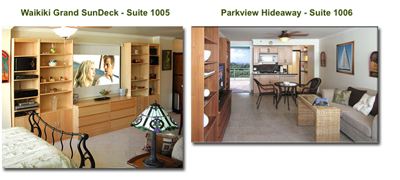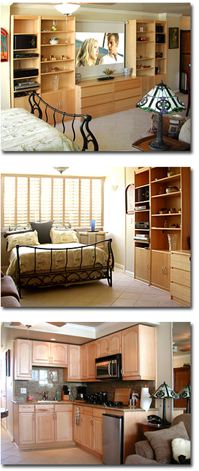 Expansive view of Diamond Head, Kapiolani Park, The Honolulu Zoo and the surf breaks at Waikiki Beach. Sunrise to sunset, enjoy the huge deck for sunbathing. Listen to the surf breaks and the birds sing. At night, sit out under the stars.
Suite 1005 is one of the largest rooms at the Waikiki Grand Hotel and is privately owned. It has undergone a four month complete renovation and is now, perhaps, the best vacation rental in Waikiki Beach. It features a two person Jacuzzi bath, large closet and lots of space for your things. The deep stainless sink and the four burner gas stove top are set in granite. Disposal, microwave/convention oven and refrigerator are all built in. Pots, pans, utensils, dishes and glassware are all provided.
Stay connected to the Internet and keep up with your email using RoadRunner high speed service with Airport wireless connectivity. RoadRunner is state-of-the-art and extremely fast. Plus, there's no need to bring a modem, and no dial-up charges. You can bring your laptop or ask about renting a Macintosh for your stay.
A big screen HDTV entertainment system is included. Choose from hundreds of cable channels including HBO. Enjoy movies, DVD's and CD's in the realism of surround sound by BOSE.
All of this is 134 steps from the beach at Waikiki. Although close to the beach and the excitement of Waikiki, Suite 1005 is remarkably quiet and peaceful. Sheltered from the traffic noise far below, you can hear the surf and listen to birds sing. Located across from the Zoo, you may even hear the elephants trumpet or the tigers roar.
With a queen size bed and a queen size sofa bed, it can sleep four in comfort. The dining table seats three.
---
Back to the top
Parkview Hideaway 1006
Visit Website:
http://www.waikikigrand1006.com/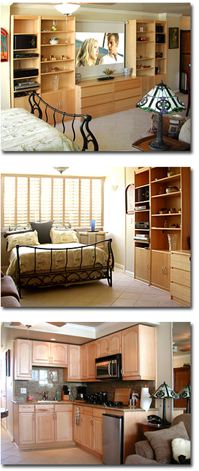 Looking to escape to Hawai'i for that perfect relaxing vacation?
You've found the ultimate haven! Your suite is breathtaking, but more about that later. First drop your luggage inside the door and turn around and stroll back out on to the "Sundeck-by-Day and Moondeck-by-Night" with Waikiki's best panoramic view. Take a look around--Diamond Head is so close it looks like you could reach over the railing and touch it! Historic Kapi'olani Park is right below with wonderful jogging paths, free public tennis courts, both a world-class small zoo and the fascinating Waikiki Aquarium and the Zoo Fence Artist's Mart each Sunday.
Take a deep breath. The air here is like nowhere else, scented with the fragrance of tropical flowers. Look to your right. A pristine beach awaits. You may see bodyboarders snagging waves or folks catching some rays on the sand. (Don't forget the sunblock!)
You have chosen the consummate place to be on O'ahu . . . on the Diamond Head edge of Waikiki. You can escape the hustle-and-bustle, or envelop yourself in it! We DO recommend that at some point you meander along the Waikiki Historic Trail which begins near the hotel.
Waikiki offers shopping, dining, entertainment, and people-watching opportunities you won't find elsewhere, but here, at the Waikiki Grand's Kapi'olani Hideaway, you have the option to do lots more and lots different.
Let's wander back in off the deck and take a closer look at your home for the next few days (or weeks? or months?) For starters you'll notice that every surface is cleaned and--where applicable--polished. The housekeeper is fastidious and dedicated, not something easy to find these days. Start opening drawers and cabinets, and you'll find EVERYTHING here as if you were home. This is, after all, your home in Waikiki, and every decision has been made to make it feel like that. There is fine tableware, drinking and wine glasses, plates, napkins, cooking utensils, a maple block of sharp knives, whatever you might need.
The details are what you had hoped for.
Now stand back and check out the bigger picture. Travertine tile floors for those wet, sandy feet! A full kitchen with granite countertops, gas range and icemaker-equipped SubZero refrigerator. Also a microwave and coffeemaker. After that long, cramped plane ride, there's a large comfortable couch you can sink into with a refreshing "Ahhhh!" Flip on the large screen plasma high-def TV. It's got cable, of course. And nearby is an easy-to-use Macintosh computer with RoadRunner high-speed internet access.
The unit sleeps two on a queen-sized Tempurpedic bed, and two more on the pull-out couch.
This ain't no cookie-cutter chain hotel room. Each item, from the Jacuzzi tub to the high-tech Toto toilet, to the pottery, paintings and pizza cutter has been personally selected to make your stay an enjoyable one. We're sure you'll love your stay!
---
Back to the top
Diamond Head View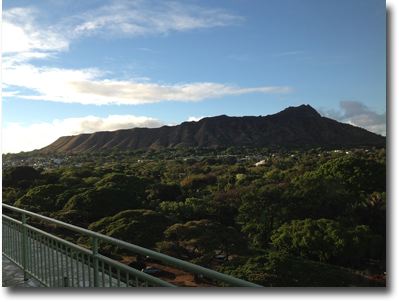 Diamond Head Sunset View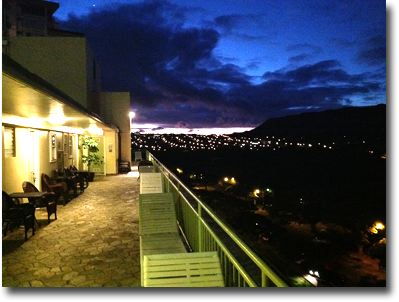 ref no:15928
Featured Product/Service
<!PDF LINK>
REQUEST CURRENT SPECIAL OFFERS
---
Up to 20% Off



Visit Website



Privacy - We value our relationship with YOU!. Your Email address is not shared with anyone.
134 Kapahulu Avenue, #1006
Honolulu, HI 96815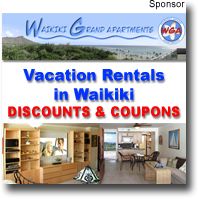 <!998Template_start>
<!998Template_end>
---
Please send questions about this website to