Community website by MBC/Ernest Abrams. Call 808-739-9797 for advertising/sponsorship.
Ongoing Events
Waikiki Get Down - Honolulu, Hawaii
Event Calendar Item

Hawaii Public Radio (HPR) - Hawai i's Women Scientists Selected for Live Tapings with Science Friday's Ira Flatow

Type:

Special Event


Date:

Friday - 7/6/2018


Time:

7:30 p.m.


Location:


Hawaii Theatre Center


Cost: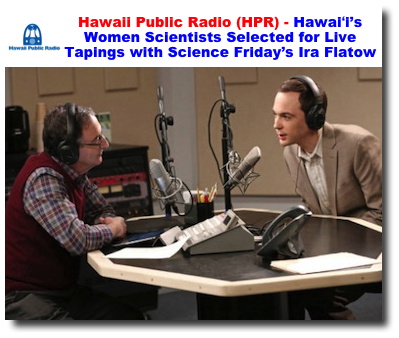 <!#43START>
Hawaiʻi's Women Scientists Selected for Live Tapings with Science Friday's Ira Flatow
(HONOLULU) Science Friday, the weekly public radio science program, has selected six scientists to appear in conversation with the program's host Ira Flatow in two live tapings in Honolulu and Kamuela this July. The events, called "First Take with Science Friday," are presented by Hawaiʻi Public Radio. Five of the scientists are women based in the islands, each an expert in her own field of study.
Appearing on stage at the Hawaiʻi Theatre Center on July 6 at 7:30 p.m. are
In addition to the onstage conversation between Flatow and the scientist guests, audiences will be able to participate with questions of their own. The interviews and questions-and-answers will be taped for possible future national broadcast on Science Friday. The events will also include musical interludes: internationally acclaimed guitarist Makana in Honolulu, and local jazz ensemble Red Water Trio in Kamuela.
Reserved seats for "First Take with Science Friday" on Friday, July 6, 2018, at 7:30 p.m. are available from the Hawaii Theatre Center box office at bit.ly/SciFriHi (case sensitive). Reservations for the Hawaiʻi island event at the Kahilu Theatre on Saturday, July 7, 7:30 p.m. are at bit.ly/scifrihi. The purchase of a ticket also entitles the purchaser to a one-year membership in Hawaiʻi Public Radio.
About Science Friday
For the last 25 years, this radio program has introduced top scientists and entertaining stories about science to public radio listeners. Independently produced by the Science Friday Initiative, a non-profit organization dedicated to increasing the public's access to science and scientific information, it is distributed by Public Radio International (PRI) to 374 stations across the U.S.
About Ira Flatow
Veteran science correspondent Ira Flatow is the host and executive producer of public radio's Science Friday. Each week he brings a lively, informative discussion of science to two million radio and podcast listeners.
Flatow is also founder of the Science Friday Initiative, a 501(c)(3) non-profit organization that is dedicated to increasing the public's access to science and scientific information.
He has shared his enthusiasm with public radio and TV fans for more than 40 years, including as a guest star on the hit CBS comedy "The Big Bang Theory."
His recent honors include the National Science Board Public Service Award, AAAS Journalism Award, the Carl Sagan Award, the Nierenberg Prize for Science in the Public Interest and the Isaac Asimov Science Award. Flatow has also received an honorary doctorate from Pennsylvania's Muhlenberg College.
"First Take with Science Friday" is Ira Flatow's first live appearance in Hawaiʻi.
Event sponsors are Chaminade University of Honolulu, HPM Building Supply, Le Jardin Academy, Sacred Hearts Academy, with hospitality sponsors Prince Waikiki and the Hapuna Beach Resort.
FOR CALENDAR LISTINGS:
WHO: Ira Flatow and guest scientists doing innovative and important work in Hawaiʻi
WHAT: "First Take with Science Friday"
WHEN/WHERE:
1 Friday, July 6, 2018, 7:30 p.m. at the Hawaii Theatre Center, 1130 Bethel Street, Honolulu, Oʻahu
2 Saturday, July 7, 2018, 7:30 p.m. at the Kahilu Theatre, 67-1186 Lindsey Rd., Kamuela, Hawaiʻi island
TICKETS: $75 single, $100 VIP (limited quantity available for HTC only), discounts for groups of two or more, plus theatre renovation fee at HTC
RESERVATIONS:
1 bit.ly/SciFriHI (Honolulu)
2 bit.ly/scifrihi (Kamuela). Note case-specific URLs.
3 For questions, (808) 955-8821 during weekday business hours.
<!#43END>
---
About HPR's Atherton Performing Arts Studio
The Atherton Studio seats 75 people and is home to a magnificent Bösendorfer concert grand piano. The Studio is available for rent for musical performances, community group meetings, and lectures. It is located in the HPR office and studio complex at 738 Kaheka Street, across from the Honolulu Don Quijote. Metered street parking is available, as are paid lots at the First Hawaiian Bank (Kapi'olani branch) and in the Pan Am building.
About Hawaii Public Radio
HPR is a private, non-profit organization which broadcasts classical, jazz, and international music; and in-depth news and informational programming from National Public Radio, American Public Media, Public Radio International, and other local, national, and international program sources, as well as programs produced by Hawaii Public Radio. In October 2013, Charity Navigator, the premier charity evaluator, awarded HPR its second consecutive four-star rating for exceptional fiscal management and commitment to accountability and transparency.
HPR's mission is to serve the entire population of the state of Hawai'i with two excellent program streams. HPR-1, the news magazine and fine arts stream, can currently be heard on O'ahu and Kaua'i (KHPR 88.1 FM and 88.5 FM); Maui, Moloka'i, Lana'i, and West Hawai'i (KKUA 90.7 FM); and East Hawai'i (KANO 91.1 FM (Hilo) and 94.7 FM (Waimea)). HPR-2, the news, local talk, and music stream, is found on Maui, Moloka'i, Lana'i (KIPM 89.7 FM and KIPH 88.3 FM (Hana)); West Hawai'i (KIPM 89.7 FM and KHPH 88.7 FM); O'ahu and Kaua'i (KIPO 89.3 FM; KIPL 89.9 FM)
Ongoing Events
---
Please send questions about this website to