Community website by MBC/Ernest Abrams. Call 808-739-9797 for advertising/sponsorship.
Ongoing Events
Waikiki Get Down - Honolulu, Hawaii
Event Calendar Item

Hawaii Public Radio (HPR) - Dynamic Duo Bring Classical and Contemporary Music to Life

Type:

Special Event


Date:

Saturday - 6/16/2018


Time:

7:30 p.m.


Location:


Hawaii Public Radio (HPR)
Atherton Performing Arts Studio
738 Kaheka Street
Honolulu, HI 96814



View Map


Cost: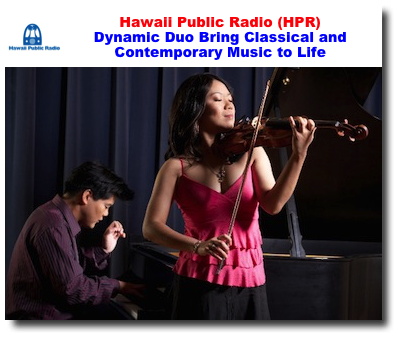 <!#43START>
Dynamic Duo Bring Classical and Contemporary Music to Life in HPR's Atherton Studio, June 16
Duo Diorama is Chinese violinist MingHuan Xu and Canadian pianist Winston Choi. They bring their eclectic mix of musical styles, ranging from the great standard works to the avant-garde, first to Maui, then to HPR's Atherton Studio on Saturday, June 16. Their current Hawaiʻi tour is made possible by Ebb and Flow Arts, a non-profit presenter of modern music and multi-media events.
Reservations for their Atherton concert may be made online at www.hprtickets.org or by calling HPR (955-8821) during regular business hours. Tickets are $25 general, $20 for HPR members, and $15 for students with ID; online ticketing fees apply. The Atherton Studio is located at Hawaiʻi Public Radio, 738 Kāheka Street. Doors open at 7:00 p.m.; music begins at 7:30 p.m.
About Duo Diorama
Having performed extensively throughout Asia, North America, South America and Europe, Duo Diorama has gained a loyal following wherever they travel. The duo's recent appearances at the Colours of Music Festival, Ebb and Flow Arts, the GroundSwell Series, the Mammoth Lakes Music Festival and Walla Walla Music Festival were met with critical and audience acclaim. Their recent South American tour included performances at the Festival Musica Nova in Brazil and Festival Encuentros. As the inaugural recipients of the Banff Centre's Rolston Fellowship in Music, they have recently toured throughout Canada, having performed in recital series from coast to coast. Recent concerts in China included the Central, Shenyang, and Sichuan Conservatories of Music, as well as Shandong University.
Having already commissioned and premiered over 20 works in the last few years, Duo Diorama is a leading proponent of music of living composers. They are committed to music from today's culture and take a very personal approach to the presentation of these works -- both those by the established modern masters and today's emerging young composers. Composers they have commissioned include Marcos Balter, George Flynn, Derek Hurst, Gregory Hutter, Felipe Lara, Jacques Lenot, George Lewis, M. William Karlins, John Melby, Robert Morris, Robert Pollock, Huang Ruo, Daniel Weymouth, Amy Williams, Jay Alan Yim, and Mischa Zupko. They have also worked with composers William Bolcom, John Corigliano, Gunther Schuller, Bright Sheng and Chen Yi. Their many projects include performing multi-disciplinary works involving electronic media. By juxtaposing their performances with colorful commentary, Duo Diorama's unique performances emphasize the relevance and vivacity of classical music. A husband and wife team, the duo makes their home in Chicago, with their twins Lillian and Ethan.
About the individual artists
MINGHUAN XU performs extensively in recital and with orchestra in China and North America. She is also a highly sought-after chamber musician, having collaborated with the St. Petersburg Quartet, Colin Carr, Eugene Drucker, Ilya Kaler, and Ani Kavafian. She delights audiences wherever she performs with her passion, sensitivity, and charisma. Xu was a winner of the Beijing Young Artists Competition and gave her New York debut at age 18 as soloist with the New York Youth Symphony Orchestra. Currently on faculty at the Chicago College of Performing Arts at Roosevelt University, she plays on a 1758 Nicolas Gagliano violin.
WINSTON CHOI was Laureate of the 2003 Honens International Piano Competition (Canada) and winner of France's 2002 Concours International de Piano 20e siècle d'Orléans. He regularly performs in recital and with orchestra throughout North America and Europe. A prolific recording artist, he can be heard on the Albany, Arktos, Crystal Records, l'Empreinte Digitale (piano works of Elliott Carter), Intrada and QuadroFrame labels. Formerly on the faculties of the Oberlin Conservatory and Bowling Green University, he is Associate Professor and Head of Piano at the Chicago College of Performing Arts at Roosevelt University.
About their name
The name "Duo Diorama" captures the couple's artistic ideals. In 19th-century Paris, the Diorama was a popular theater entertainment that prefigured cinema. A marvelous landscape scene - one telling the tale of some mythic event - was painted on linen and brought to life using dramatic effects o lighting (executed using sunlight redirected by a series of mirrors); such were the skills of its virtuoso light artists that the Diorama's scenes would appear to take on dimensionality and motion - to literally come alive. Duo Diorama seeks to bring sheets of music notation to life using similar sonic manipulations of color, feeling, and movement, thus transporting their listeners to realms of musical drama, profound emotions and inspiring aesthetic ideas.
FOR CALENDAR LISTINGS:
WHO: Duo Diorama: MingHuan Xu, violin, and Winston Choi, piano
WHAT: An evening of classical and modern music for violin and piano
WHEN: Saturday, June 16, 2018, 7:30 p.m.
WHERE: Atherton Performing Arts Studio, 738 Kāheka Street, Honolulu
TICKETS: $25 general, $20 HPR members, $15 students; plus online service charge
RESERVATIONS: Call 955-8821 during business hours or reserve seats at hprtickets.org
<!#43END>
---
About HPR's Atherton Performing Arts Studio
The Atherton Studio seats 75 people and is home to a magnificent Bösendorfer concert grand piano. The Studio is available for rent for musical performances, community group meetings, and lectures. It is located in the HPR office and studio complex at 738 Kaheka Street, across from the Honolulu Don Quijote. Metered street parking is available, as are paid lots at the First Hawaiian Bank (Kapi'olani branch) and in the Pan Am building.
About Hawaii Public Radio
HPR is a private, non-profit organization which broadcasts classical, jazz, and international music; and in-depth news and informational programming from National Public Radio, American Public Media, Public Radio International, and other local, national, and international program sources, as well as programs produced by Hawaii Public Radio. In October 2013, Charity Navigator, the premier charity evaluator, awarded HPR its second consecutive four-star rating for exceptional fiscal management and commitment to accountability and transparency.
HPR's mission is to serve the entire population of the state of Hawai'i with two excellent program streams. HPR-1, the news magazine and fine arts stream, can currently be heard on O'ahu and Kaua'i (KHPR 88.1 FM and 88.5 FM); Maui, Moloka'i, Lana'i, and West Hawai'i (KKUA 90.7 FM); and East Hawai'i (KANO 91.1 FM (Hilo) and 94.7 FM (Waimea)). HPR-2, the news, local talk, and music stream, is found on Maui, Moloka'i, Lana'i (KIPM 89.7 FM and KIPH 88.3 FM (Hana)); West Hawai'i (KIPM 89.7 FM and KHPH 88.7 FM); O'ahu and Kaua'i (KIPO 89.3 FM; KIPL 89.9 FM)
Ongoing Events
---
Please send questions about this website to