Community website by MBC/Ernest Abrams. Call 808-739-9797 for advertising/sponsorship.
Ongoing Events
Waikiki Get Down - Honolulu, Hawaii
Event Calendar Item

Waikiki Aquarium Launches Syngnathid Exhibit Featuring Seahorses, Seadragons And Pipefishes

Type:

Family


Date:

JULY 2014


Time:

see notes


Location:


2777 Kalakaua Avenue
Honolulu, HI 96815
Phone: 808-923-9741


View Map


Cost:

see notes

Click Here to view fact sheet & Photos



WHEN:
Friday, July 4, 2014
Exhibit open 9 a.m. to 4:30 p.m.
Educational activities from 9 a.m. to 1:00 p.m.

WHERE:
2777 Kalakaua Avenue
Honolulu, HI 96815

INFO:
Keiki 12 and under who wear seahorse costumes to the Aquarium on the 4th of July will receive free admission. New exhibit and related activities are included with admission to the Aquarium.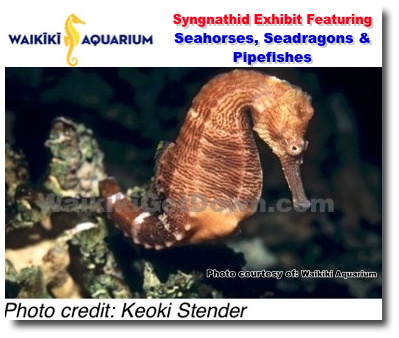 <!#43START>
WAIKIKI AQUARIUM TO LAUNCH SYNGNATHID EXHIBIT FEATURING
SEAHORSES, SEADRAGONS AND PIPEFISHES ON 4TH OF JULY
WHAT:
Amazing Adaptations Syngnathid Exhibit featuring seahorses, seadragons and pipefishes at the Waikiki Aquarium. The Aquarium will open a new exhibit featuring seahorses, seadragons and pipefishes. There are nearly 200 known pipefish species, 47 known seahorse species and only two known seadragon species in the world. The new gallery will provide guests with an opportunity to view these captivating animals and learn about their unique adaptations.
There will be nine exhibits showcasing a diverse collection of species, including two seahorse nursery tanks that will display juvenile seahorses bred at the Aquarium and the live food required for survival in captivity.
As part of launch festivities on the 4th of July, keiki 12 and under will be invited to wear seahorse costumes to receive free admission. Experts will also be on site to conduct fun, interactive activities for the whole family.
AMAZING ADAPTATIONS EXHIBIT SPECIES FACT SHEET
Our Amazing Adaptations exhibit will display a collection of seahorses, seadragons and pipefishes. The species in this family of fishes have evolved amazing adaptations to their environments, including male pregnancy and armored bodies covered in skin instead of scales. Additional information about some of the species we will display is presented below.
Photo credit: Kelsey Ige, Waikiki Aquarium
Weedy Seadragon
Phyllopteryx taeniolatus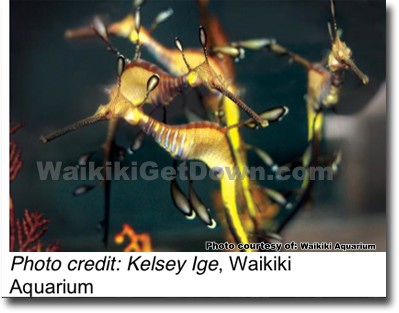 Distribution: Southern and Western Australia and T asmania
About: The color and number of appendages a weedy seadragon has varies based on location, depth and age. Large males can carry up to 300 eggs at one time on brooding patches under the tail.
Photo credit: Keoki Stender
Messmate Pipefish
Corythoichthys haematoptera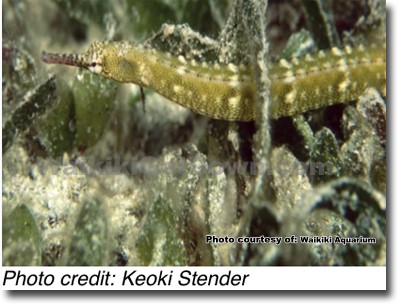 Distribution: Indo-Pacific region
About: This fish, also known as the Dragonface Pipefish, is a tropical species native to the Indo- Pacific region. Adults reside in coral crests and on rubble patches. These pipefish feed upon small crustaceans and form strong pair bonds.
Photo credit: Keoki Stender
Bluestripe pipefish
Doryrhamphus excisus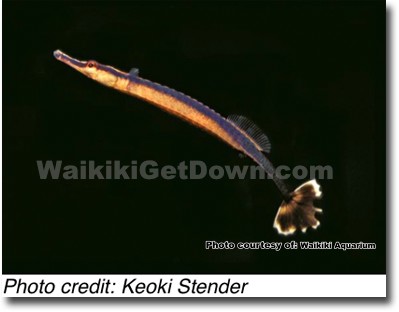 Distribution: West Pacific
About: This colorful fish is found in reef habitats in the Pacific. It typically remains close to small caves or crevices, and is generally secretive. This species is known to function as a cleaner fish, picking parasites from other fish, including moray eels
Photo credit: Keoki Stender, Kewalo Pipe, Oahu
Redstripe Pipefish
Dunckerocampus baldwini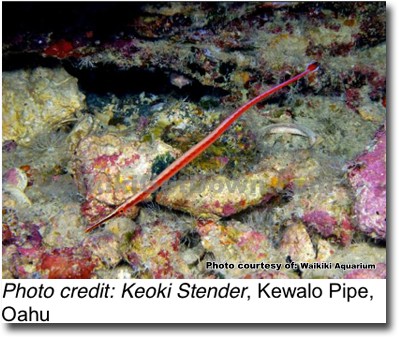 Distribution: Hawaiian Islands
About: This beautiful and brightly colored pipefish is endemic to the Hawaiian region. It is typically found in caves or against rocks down to a depth of around 50 meters (160 ft). Males of this species can carry up to 200 fertilized eggs until they hatch.
Photo credit: Keoki Stender
Smooth Seahorse
Hippocampus kuda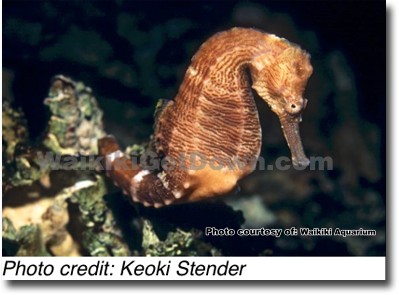 Distribution: The Indo-Pacific region, including Hawaii.
About: This species is known by many different common names including the spotted seahorse and the yellow seahorse. Males are typically brown in color with dark body spots, while females range from all black to yellow.
Photo credit: Jeffery Jeffords
Dwarf Seahorse
Hippocampus zosterae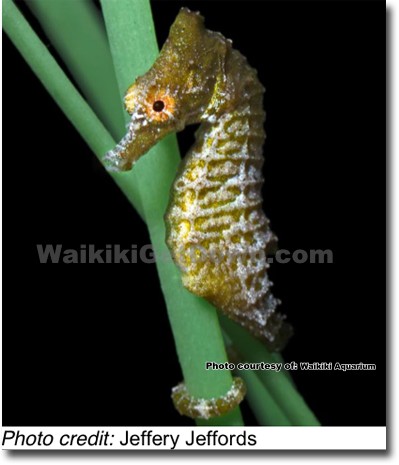 Distribution: West Atlantic and Gulf of Mexico
About: These small seahorses reach only one inch in length (2.5 centimeters). The dwarf seahorse is listed in the Guinness Book of World ␣␣␣␣␣␣␣␣␣␣␣␣␣␣␣␣␣␣␣␣␣␣␣␣␣␣␣␣␣␣␣␣␣␣␣␣␣␣␣␣␣␣␣␣ maximum speed of only 5 feet (1.5 meters) per hour.
<!#43END>
---
LISTEN TO GREAT INTERVIEW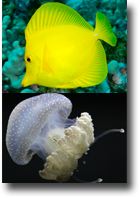 Founded in 1904 and administered by the University of Hawai'i at Manoa since 1919, the Waikiki Aquarium is located on the shoreline of Waikiki Beach next to a living reef and across from Kapiolani Park. The Aquarium -- second oldest in the U.S. -- showcases more than 500 marine species, and maintains more than 3,500 marine specimens. Public exhibits, education programs and research focus on the unique aquatic life of Hawai'i and the tropical Pacific.
The Aquarium welcomes more than 320,000 visitors annually, and is open daily from 9 a.m. to 4:30 p.m. except Honolulu Marathon Sunday and Christmas Day. Admission is $12 for visitors; $8 for local residents and active duty military with ID, $5 for senior citizens and juniors ages four to 12; and free for children three and under and Friends of Waikiki Aquarium (FOWA) members.

MISSION:
To inspire and promote understanding, appreciation and conservation of Pacific marine life.
DESCRIPTION:
Founded in 1904, the Waikiki Aquarium is the third oldest public aquarium in the United States. A part of the University of Hawai`i at Manoa since 1919, it is located next to a living reef on the Waikiki shoreline. Exhibits, programs, and research focus on the aquatic life of Hawai`i and the tropical Pacific, with roughly 320,000 people visiting the Aquarium each year. Over 3,500 organisms are on exhibit representing more than 500 species of aquatic animals and plants.
EXHIBITS:
Waikiki Aquarium exhibits focus on the diversity of aquatic, shoreline and coral reef habitats and living communities of Hawai`i and the tropical Pacific. Among the highlights:
Corals Are Alive! interactive exhibits showcasing corals, their biology and conservation
Sea Visions Theatre shows videos that illustrate shoreline conservation and how you can be a responsible reef visitor
South Pacific Marine Communities features South Pacific habitats and species, including colorful reef corals and fishes,giant clams, groupers and snappers and intriguing partnerships such asanemone fishes and their host sea anemones
Hawaiian Marine Communities recreates Hawaiian habitats from wave-swept surge zone to deep reef slopes, and from young to ancient reefs; celebrates distinctive reef life, including the longnose butterfly fish
Ocean Drifters Gallery features a1,000-gallon moon jelly tank and a seasonally changing jelly wall that may contain white-spotted jellies, blue blubbers, sea nettles, box jellies and ctenophores
Hunters on the Reef 35,000-gallon exhibits home to Hawaiian sharks and jacks; shark interpretive panels introduce shark biology, research, conservation and safety. New Spyball camera provides up close shark encounters in real time on a television screen
Edge of the Reef naturalistic shoreline exhibit offering opportunities for supervised observation and hands-on interactions with selected marine life
The Coral Farm exhibit and working research facility for propagation of reef corals
Giant Clams exhibit and working research facility for propagation of clams
Hawaiian Monk Seal Habitat features the endangered Hawaiian Monk Seal found only in the Hawaiian Islands
Aquaculture features moi, a popular food fish, whose numbers have declined in the wild
Coastal Gardens with native Hawaiian plants adapted for life close to the sea
ENDANGERED SPECIES:
Hawaiian monk seals; 'öhai (endemic Hawaiian coastal plant)
UNIQUE SPECIES:
Pacific giant clams; Hawaiian stream gobies; raredeep-reef butterflyfish; bearded armorheads; masked angelfish; and diversenative coastal plants
CONSERVATION & RESEARCH:
The Waikiki Aquarium is a working research facility,conducting numerous conservation and research programs, including:
Husbandry, nutrition and behavior of aquatic and marineaquarium specimens
Husbandry and propagation of chamberednautilus
Spawning behavior, larval rearing, and propagationpotential of selected reef fishes
Identification & treatment of diseases, parasiteinfections and other ailments of aquarium marine life
Coral husbandry, propagation and conservation
Hawaiian monk seal metabolic and bacteriologicalresearch
Giant clam husbandry and propagation
Sea jelly husbandry and propagation
Deep reef coral research
Coral Ark: archiving and husbandry of rare Hawaiiancorare deep-reefrals
EDUCATION PROGRAMS:
The Waikiki Aquarium offers numerous education programs,including:
Interpretive services: staff or volunteers enrich the visitor experience with explanations of the exhibits, demonstrations, and hands-on experiences
Self-tour opportunities for individuals and groups: interpretive graphics & exhibits, handouts are available.
School Program: presentations and docent-assisted tours for school groups, grades K - 6
Outreach and special request presentations for schools and community groups
Community Enrichment Program: year-round natural history field trips, classes, and workshops for children, families, and adults
Information services: staff answer questions from visitors & community on marine and aquarium-science related topics
OPPORTUNITIES:
The Waikiki Aquarium affords a number of opportunities to get involved through:
Membership: Join the Friends of the Waikïkï Aquarium (FOWA) to enjoy the annual benefits of free admission, 20% discount at the Natural Selections gift shop, quarterly mailings of our beautiful and informative magazine Kilo i'a, free salt water pick-up, and facility rental privileges at "Family" and "Family Plus" levels. To select the membership level right for you,please see the Visitor Services staff or contact Events and Membership Manager Raina Fujitani at (808) 440-9008 for more information.
Volunteerism: When you donate your time and curiosity to the Waikiki Aquarium, you are rewarded with diverse and challenging opportunities to help make a difference!

Education-- Docents provide on-site presentations and tours to elementary school groups and provide outreach programs for school and community groups. Interpreters at the Edge of the Reef exhibit assist visitors and provide up-close observations of Hawaiian marine life.
Live Exhibits -- Assist with husbandry, tank maintenance and feeding.
Natural Selection Shop -- Assist with stocking inventory and sales.
Membership/PublicRelations/Special Events - Assist with bulk mail outs & communications with Aquarium members, public relations surveys, record-keeping and special events.
AWARDS:
The Waikiki Aquarium has received several awards for its research and conservation efforts, including:
2008 Keep It Hawai`i Award
2003 Munson Aquatic Conservation Exhibit (M.A.C.E.) Award from the American Zoo & Aquarium Association (AZA) for South Pacific Marine Communities exhibit
2003 Edward H. Bean Award from AZA for Long Term Tropical Pacific Coral Propagation Program
DIRECTOR: Dr. Andrew Rossiter
EMPLOYEES: 35 full-time, 36 part-time, 33 affiliate staff
HOURS: 9 a.m. to 4:30 p.m. daily (except Honolulu Marathon Sunday and Christmas Day)
ADMISSION: $12 for visitors; $8 for local residents and active duty military with ID, $5 for senior citizens and juniors ages four to 12; and free for children three and under and Friends of Waikiki Aquarium (FOWA) members.
Ongoing Events
Featured Product/Service
Powered by MBC CalendarMaker

Events subject to change without notice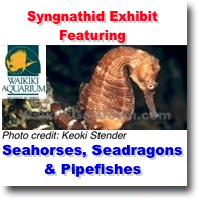 <!998Template_start>
<!998Template_end>
---
Please send questions about this website to