Community website by MBC/Ernest Abrams. Call 808-739-9797 for advertising/sponsorship.
Waikiki Get Down - Honolulu, Hawaii
News Item

Waikiki Neighborhood Board Meeting November 2021 Minutes
With Permission / Courtesy of
: City and County of Honolulu Neighborhood Commission Office
<!#450IMAGESTART>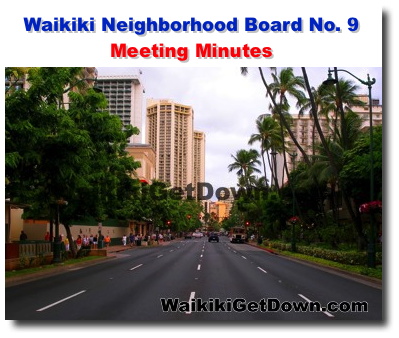 <!#450IMAGEEND>
WAIKIKI NEIGHBORHOOD BOARD NO. 9REGULAR MEETING MINUTESTUESDAY, NOVEMBER 10, 2020WAIKIKI COMMUNITY CENTER
CALL TO ORDER: Chair Robert Finley called the meeting to order at 7:00 p.m. A quorum was established with 14 members present. Note: This 17-member Board requires nine (9) members to establish quorum and to take official board action.
Board Members Present: Jerome Bautista, Robert Boyack, Lisa Cabanero, Helen Carroll, Louis Erteschik, Robert Finley, Mark Garrity, Kathryn Henski, Jeffrey Merz, John Nigro, Melissa Filek, Mark Smith, Kenneth Wilder, Michael Brown and Raiyan Rafid (appointed at 6:20 p.m.).
Board Members Absent: Jacob Wiencek and Walt Flood.
Guests: Marc Alexander (Office of Housing); Senator Sharon Moriwaki; Hawaii Health and Harm Reduction Center Executive Director Heather Lusk; Lieutenant Pamela Liu and Corporal Christopher Gushiken (Honolulu Police Department); James Browne, Dave Moskowitz and Elizabeth Powers (Residents); Casey Ishitani (Neighborhood Assistant).
VACANCIES
One (1) Vacancy Sub District 2: Residents Raiyan Rafid and Leeann Tokuhara volunteered at the October 2020 meeting and the Board nominated them. Resident Daniel Magnum volunteered. There were no other nominees or volunteers.
There were no votes for Leeann Tokuhara.
There were five (5) votes for Daniel Magnum (Boyack, Nigro, Filek, Wilder, Garrity).
There were nine (9) votes for Raiyan Rafid (Bautista, Carroll, Erteschik, Finley, Cabanero, Brown, Henski, Merz, Smith).
Rafid was appointed to the Board. The Neighborhood Assistant swore Rafid in. There were 15 Board members present.
TREASURER
Hearing no objection Chair Finley deferred the nomination and appointment of a Board Treasurer to the January 2021 Meeting.
CITY MONTHLY REPORTS
Honolulu Fire Department (HFD): There was no representative. No report was given.
Honolulu Police Department (HPD): HPD Lieutenant Pamela Liu and Corporal Christopher Gushiken reported crime statistics for the Waikiki area. Statistics can be found at https://www.honolulupd.org/.
Questions, comments and concerns followed.
1. Citations: Bautista inquired about the significant increase in park closure citations and Corporal Gushiken responded that it is the result of an increase in visitors. Wilder raised concerns regarding the discrepancy between visitors and residents.
2. Assault and Robbery: Carroll reported an assault and robbery she had experienced at the Don Quixote near Ala Moana.
Board of Water Supply (BWS): BWS representatives were unavailable. No report was given.

Hearing no objection, Chair Finley had the Agenda Item Kanekapolei Housing Grand Opening at this time.
Kanekapolei Housing Grand Opening: Kirra Downing reported that the Lilia Waikiki will provide affordable housing for residents. The walk-up units have been remodeled. More information can be found at https://www.liliawaikiki.com/.
RESIDENTS AND COMMUNITY CONCERNS
Ala Wai Promenade: Ala Moana Neighborhood Board Chair Ryan Tam raised that his Board will be discussing the Ala Wai Promenade improvements and that Coucilmember Tommy Waters and Senator Sharon Moriwaki are assisting with the improvements.
Mike Formby: Resident Dave Moskowitz raised support for the appointment of Mike Formby to Mayor Elect Blangiardi's administration.
Homelessness: A resident raised concerns regarding homeless individuals trespassing on his apartment complex and inquired if there was a way to punish trespassers. Chair Finley responded that it judicial consequences depend on prosecution. Merz added that the area near the 7-11 has a frequent homelessness presence. A resident reported large gatherings near a HECO power station at Ena and Hobron Lane.
PUBLIC EVENTS
Note: all events are submitted and awaiting City Approval/Denial. Due to the Covid19 virus most street events will not be held this year.
Cancelled Events
• Sunday, December 6, 2020 Street Bikers United Toys for Tots Caravan
• Saturday, December 12, 2020 Kalakaua Merry Mile Run
• Sunday, December 13, 2020 Honolulu Marathon
Pending Event
• Monday, December 7, 2020 6:00 p.m. to Midnight, Pearl Harbor Memorial Anniversary Parade
APPLICATIONS FOR LIQUOR LICENSES
There were no hearings for liquor licenses at this time.
ELECTED OFFICIALS AND OTHERS
Mayor Kirk Caldwell's Representative: Connie Mitchell reported the following.
• IHS Temporary Housing: IHS will establish a stabilization and temporary housing site in Waikiki. Candidates will be individuals deemed to be mentally unstable and in need of immediate treatment. The site will include showers and beds. IHS has a goal of establishing 12 different sites.
Questions, comments and concerns followed.
A. Stipulations: Merz inquired about temporary housing stipulations and Mitchell responded that it will be in between 24 to 72 hours. Boyack inquired if HPD will be involved and Mitchell responded that only in extreme cases.
B. Lemon Road: Henski inquired if the site will be in association with the facility at Lemon Road and Mitchell responded that it will be a separate entity.
Governor David Ige's Representative: Scott Glenn reported the following.
• Pre-Travel Testing: There were more than 10,000 incoming passengers on the first day and an estimated 80 to 85 percent of them completed pre-testing to avoid the 14 day quarantine.
• Hawaii Restaurant Card: The Hawaii Restaurant Card Program is being funded with 75 million dollars from CARES Act funding.
• Grab and Go Meals: Meals will be provided at 203 public schools. More information can be found at www.ainapono.org/grabandgo.
Questions, comments and concerns followed.
A. Dredging: Nigro requested an update on a dredging project in the Ala Wai Canal and Glenn responded that he will get back to the Board.
B. Bike Lanes: A resident requested the bicycle lanes be repaved and repainted along Kalakaua Avenue. Glenn responded that this concern must be addressed to the City and County of Honolulu.
Councilmember Tommy Waters: A representative was not present at this time.
Senator Sharon Moriwaki was unavailable at this time. Hearing no objection, Chair Finley had District 22 Representative Elect Adrian Tam at this time.
Representative Adrian Tam: District 22 Representative Elect Adrian Tam reported the following.
• Tier System: Representative Tam raised concerns regarding the State of Hawaii reverting to Tier 1 of the Emergency Proclamation, stating that residents should practice safe measures during the holidays.
• Contact: Residents may contact Representative Tam through his office manager Mazie Chang or at 586-8520. Representative Tam's e-mail is reptam@capitol.hawaii.gov.
Senator Moriwaki reconnected via WebEx and hearing no objection Chair Finley had her report at this time.
Senator Sharon Moriwaki: Senator Moriwaki reported the following.
• Furloughs: Senator Moriwaki reported that the State Senate is exploring restructuring to avoid further furloughs.
• Unemployment: The Senate will continue to push for unemployment benefit distribution due to the pandemic.
• Mental Health Programs: In her newsletter, Senator Moriwaki reported that a survey showed residents raised that mental health treatment would be the most effective treatment to mitigate homelessness.
• Funds: The Senate has appropriated 145 million dollars toward Honolulu residents in financial need.
• Ala Moana Beach Park: Fishers and swimmers at Ala Moana Beach Park have been contending for beach usage. Senator Moriwaki has requested that DPR and DLNR collaborate to post signage to mitigate interactions between them.
• Legislation: Senator Moriwaki reported that she will explore legislation to mitigate traffic noise and to increase penalties against elderly residents.
Waikiki Improvement Association (WIA): Rick Egged reported that Waikiki businesses are preparing for a proposed reopening in December 2020. Beach sand replenishment was proposed for January 2021.
Questions, comments and concerns followed. Beach Sand: Merz inquired about the location of the sand replenishment and Egged responded that it will be the area near the Kuhio Beach berms.
Federal Representative Ed Case: A representative was not present. No report was given.
APPROVAL OF MINUTES
Regular Meeting Minutes for Tuesday, October 13, 2020: Chair Finley inquired if there were any amendments to the minutes. Hearing none, Chair Finley inquired if the Board would adopt the Minutes by unanimous consent.
The Board ADOPTED the Minutes BY UNANIMOUS CONSENT, 15-0-0 (Aye: Bautista, Boyack, Cabanero, Carroll, Erteschik, Finley, Garrity, Henski, Merz, Nigro, Filek, Smith, Wilder, Brown and Rafid; Nay: None; Abstain: None).
NEW BOARD BUSINESS
Ala Wai Watershed Project: Jeff Herzog of the United States Army Corps of Engineers (USACE) reported the following updates regarding the Ala Wai Watershed Project.
• Environmental Impact: Due to an environmental impact report the USACE shifted the paradigm of the initial project to a new model.
• Outflow: The new proposed outflow is located near the Ala Wai Promenade and Honolulu Convention Center.
• Information: The USACE will inform the public at four (4) online meetings for community outreach.
Questions, comments and concerns followed.
1. Funding: Merz inquired regarding the status of funding and Herzog responded that the USACE has the Federal funding for the project and it is pending Mayor Elect Blangiardi's approval to proceed.
2. Oceanit: Chair Finley inquired about the collaboration with Oceanit and Herzog responded that they and the City Council will explore all options.
3. Outflow: Nigro inquired why an outflow was located by Hausten Ditch and Herzog reported that it would be to prevent backflow and further flooding.
REPORTS
Treasurer's Report: The remaining budget for the Waikiki Neighborhood Board was $331.45.
Sub District 1 Report: Merz reported that new utility poles will be installed on Ena Road.
Sub District 2 Report: No report was given.
Sub District 3 Report: HPD presence on Halloween helped mitigate crowding.
Chair Report: Chair Finley reported that street events for legacy events will be a formal Agenda item. Centennial Park fencing will be available when funding is.
ANNOUNCEMENTS
The next Waikiki Neighborhood Board No. 9 meeting is scheduled for Tuesday, January 9, 2021 at 6:00 p.m.
View this meeting on Olelo Channel 49 at 9:00 p.m. on the 4th Tuesday each month, and at 6:00 a.m. on the 1st and 3rd Sunday of each month. View online at: http://olelo.granicus.com/ViewPublisher.php?view_id=30.
ADJOURNMENT - The meeting adjourned at 8:10 p.m. due to facility closure.
Submitted by: Casey Ishitani, Neighborhood Assistant
Reviewed by: Jackson Coley, Public Relations
Final Review: Chair Robert Finley
Featured Product/Service
<!998Template_start>
<!998Template_end>
---
Please send questions about this website to