Community website by MBC/Ernest Abrams. Call 808-739-9797 for advertising/sponsorship.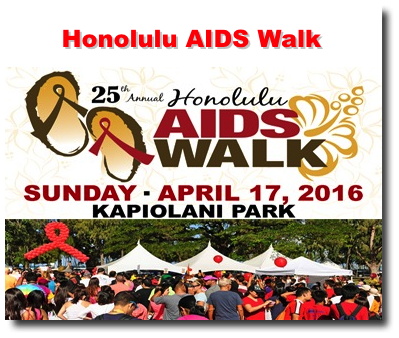 <!#43START>
Register Today and Help Make a Difference!
Signing up to walk in the Honolulu AIDS Walk is an easy way to join the fight of HIV/AIDS in Hawaii and the across the Pacific, best of all it's FREE! When you come out and "Walk With Aloha" you are being a part of the solution and making a difference by saving lives!
Joining the fight in HIV/AIDS here in Hawaii takes a few easy steps and best of all, it's 100% FREE to register! Our walkers help us by raising funds and asking for donations from family, friends, and co-workers in support of their participation. Every life matters and every dollar raised will make a difference in the islands! Please join us on Sunday, April 17, 2016. The fun and excitement starts at 8am and the 5k walk kicks off at 10am.
REGISTER TODAY
DATE/TIME/LOCATION
Date: Sunday 4/17/2016
Time: See notes below for times
Location: Kapiolani Park
VISIT WEBSITE:
http://support.lifefoundation.org
Honolulu AIDS Walk 2016 Event Information
Welcome to the 25th annual Honolulu AIDS Walk! It is estimated that over 5,000 people will walk together on Sunday, April 17th at Kapiolani Park in beautiful Waikiki. The Honolulu AIDS Walk is an easy 5K walk around beautiful Kapiolani Park, the annual walk raises funds to support Life Foundation, Hawaii's oldest and largest AIDS organization. The Life Foundation provides free services to our local community through its HIV Prevention Services: Education, Counseling, Condom Distribution, HIV and Hepatitis C Rapid Testing. We also provide Care Services to our clients through: Housing Assistance, Nursing Care, Mental Health Support, Native Hawaiian Services, Emergency Food Pantry, Hot Meals Program, and Peer Support Groups.
Registration is easy and FREE! Walkers help us out by asking family, friends, and co-workers for donations in support of their fight against HIV. You can register to walk as an individual walker, start your own team, or join an existing team. You do not have to walk to help the Life Foundation fundraise but we kindly ask that you please register and create a home page to show your support. Simply click on one of the Registration buttons to the home page and follow the screen prompts. If you walked in previous year's we ask that you please register again, we switched over to a new program to oversee the Honolulu AIDS Walk website and your old user name and password did not carry over in the switch.
We hope you will join us for a day of community, fun, and a chance to make a difference in the lives of those living with HIV/AIDS in Hawaii. Since our first walk, the community has helped us raise over 2.5 million dollars from the Honolulu AIDS Walk. 100% of these valuable funds will stay in Hawaii and help provide critical life saving services to the local HIV community. Whether you walk to remember a friend or family memeber lost to HIV/AIDS, in support of a loved one living with HIV, or insupport of the fight against HIV on Sunday, April 17th we will walk in solidarity to raise awareness that HIV is still infecting people each and every day and renew our efforts and walk until we finally see a cure for this disease.
Pre Check-In and Donation Drop Off: Thursday, April 14th from 9am-7pm
Save time and skip the check in line on the day of the Walk! Stop by Life Foundation before the walk and turn in your fundrasing donations and collect your fundraising prize incentives you may have earned. The Pre Check-In and Donation Drop Off daywill be at the Life Foundation office. Parking will be validated for those who decide to take advatage of this day. *You do not need to check in if you do not have any donations to turn in or prize incentives to pick up.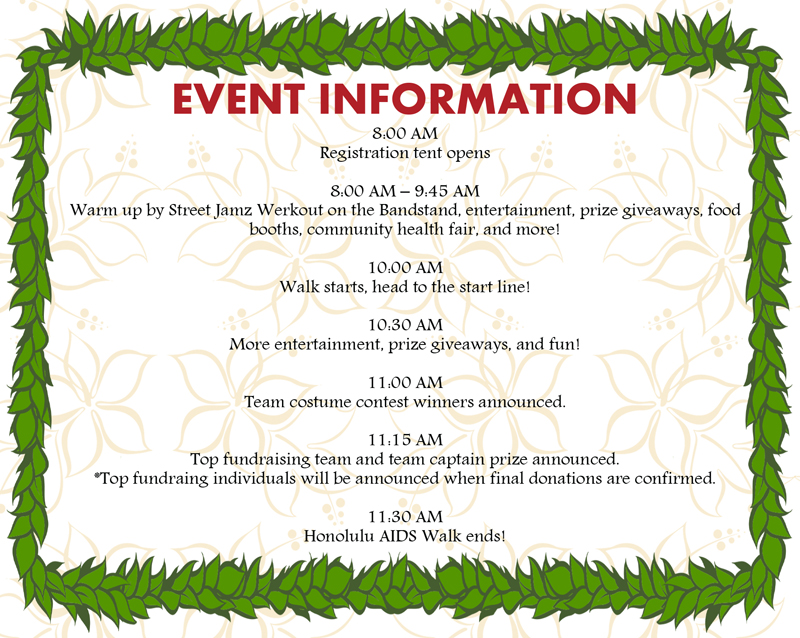 Parking:
Parking can be tight the day of the event! We encourage everyone to carpool to ensure we can all enjoy the free parking around Kapiolani Park. Additionally there will be a FREE shuttle service running from Kapiolani Community College Parking Lot B, shuttles run continuously from 7:00 am to 12:00 noon.
Water Stations:
The Honolulu AIDS Walk will provide a water tent at the start/finish line of the walk only! This year there will not be a half way water station, we encourage you to plan accordingly.
HONOLULU AIDS WALK EVENT DAY SCHEDULE
Each year, Life Foundation provides services to hundreds of individuals living with HIV/AIDS on the island of Oahu, conducts thousands of free HIV tests, and offers HIV prevention education to the community. This year, Life Foundation recognized its 31st year as the leading provider of HIV prevention and care services in Hawaii, and as a friend and advocate to those living with the disease.
The Honolulu AIDS Walk is not only a fundraiser, but an opportunity for the community to come together to remember those we have lost to HIV/AIDS, and celebrate together the achievements we have made in HIV prevention and care. The event features great food vendors, local entertainment, a children's fun zone, a community health fair, free HIV testing, and great prize giveaways.
Since our first walk, you have helped Life Foundation raise over 2.5 million dollars through the Honolulu AIDS Walk, the largest public awareness event around HIV/AIDS in the islands. 100% of the money raised through this walk will stay here locally and make a huge impact on our local community. All the proceeds will benefit our HIV Care Services, Prevention Programs and HIV Testing, and other programs that Life Foundation oversees, like the Kua'ana Project, our Transgendered Services and Gay-Straight Alliance (GSA) Hawaii.
Every life matters and every dollar raised will make a difference! Please join us on Sunday, April 19, 2015. The walk begins at 10am with fun and excitement starting at 8am.
<!#43END>
Check out these great videos below to learn more about the Honolulu AIDS Walk.
The Honolulu AIDS Walk is a benefit for Life Foundation, a local organization that provides free HIV testing and services for people living with HIV/AIDS on Oahu. It is estimated that 3,000 people in Hawaii are living with HIV or AIDS. Approximately 40,000 new HIV infections occur each year in the United States - half of these among individuals under the age of 25.
The Honolulu AIDS Walk is an easy 5k (3 mile) walk around Kapiolani Park, and features great entertainment, on-stage give-aways, a kid zone with inflatable bouncers, and food booths.
Walkers raise money by asking friends and family to sponsor their participation in the Honolulu AIDS Walk. There is no fundraising minimum or registration fee to attend the event. Teams remain an important part of the Walk's success and participants can form teams with friends or co-workers to encourage and promote their fundraising efforts. Prizes are given for the top fundraising teams, top fundraising individuals, and teams with the best AIDS ribbon themed costume. A special prize is given to the top fundraising high school team.
For more information on registering, starting a team, or volunteering, visit
www.honoluluaidswalk.org
, call 521-AIDS, or e-mail
kjohns@lifefoundation.org
.
###
Media Contact:
Melanie Moore, Director of Communications
Phone: 808-383-0163
ref no:23805
Featured Product/Service
<!PDF LINK>
<!998Template_start>
<!998Template_end>
---
Please send questions about this website to